Halifax Mk III at YAM 77 SQN links*Halifax-Yorkshire Air Museum*Halifax-RAF Museum*Halifax-BC Museum.Canada*Halifax Print Upd 04 OCT 2019
All photos by Anders Straarup on 14 SEP 2019 at The Yorkshire Air Museum.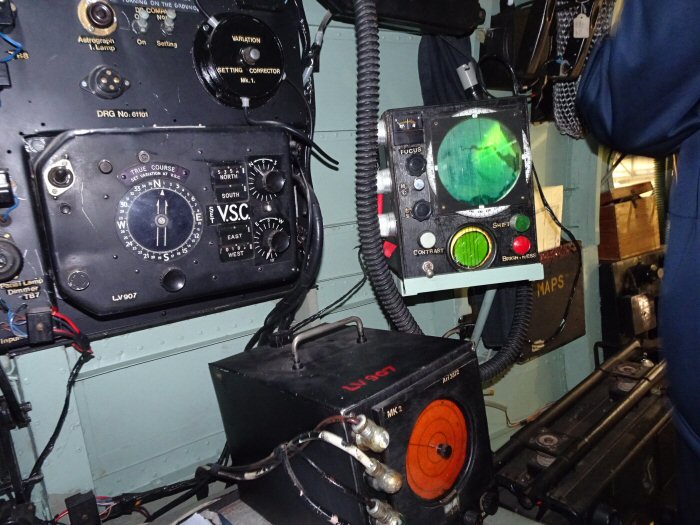 Den grønne skærm øverst viser en flodmunding.

H2S gav navigatøren et klart billede af land
og vand. Meget nyttig til Navigation.
Illustrationerne på den side viser
Aarhusbugten her i Danmark.

Et stort fremskridt, men snart kunne
tyskerne spore, når allierede fly brugte H2S.

Til trods for det vurderede Bomber Command
at det alligevel var en fordel at bruge H2S sammen med Gee og traditionelle metoder. Bemærk kompasset og kassen med kort.

The green screen at the top shows a
river mouth.

H2S gave the Navigator a clear picture of
land and water.Very helpful in Navigation.
The illustrations on that page show the
Aarhus Bay here in Denmark.

A major step forward, but the Germans
were very soon able to detect when Allied planes used H2S.
In spite of that Bomber Command found
that it was an advantage to use H2S
together with Gee and traditional methods.
Notice the compass and the box with maps.