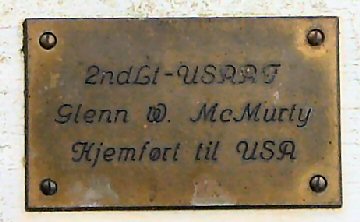 Glenn W. McMurty Updated: 14 DEC 2014

Airman: u055008.htm Surname: McMurty Init: G W Rank: 2ndLt Service: USAAF Sqdn: 336
P_link: p182.htm Plane: B17 42-29702 Operation: Bomb G Crash_site: Sea S of Langeland.
Crash_d: d130643 Buried_d: b080743 C_link: c055.htm At_Next: Magleby - L

"Under et bombetogt til Kiel (her) den 13. juni 1943 blev amerikanske bombere angrebet af tyske
jagere over Østersøen, hvor en del blev skudt ned.
Fra Langeland (her) så man ved 10-tiden 3 bombere og 3 tyske jagere styrte i havet, samt en 5-6
udfoldede faldskærme.
Fra 3 forskellige bombefly indbragtes senere omkomne besætningsmedlemmer til Langeland." (FAF)

T/Sgt Louis L. Julliard og 2nd Lt Glenn W. McMurty fra B17 42-29702, 2nd Lt Herbert C. Wood fra B17 42-30118 og 2nd Lt Wilson F. Brown fra B17 42-3187
blev alle begravet på Magleby Kirkegård, Langeland. Overført til Ardennes American Cemetery i Belgien 7. maj 1948. (Kilde: FAF) Hans navn er ikke i registret hos
ABMC, så mest sandsynligt blev han begravet på en privat kirkegård i USA. Der er stadig et trækors med en metalplade for ham på Magleby Kirkegård!
Se kortet USAAF med alle amerikanske flyvere begravet i Danmark.

"2nd Lt McMurty blev fundet syd for Langeland (måske omkring her) den 6. juli 1943 og begravet den 8. juli 1943." (FAF)

2 flyvere fra B17 42-29702 blev begravet i Magleby, Langeland og 1 i Rise, Ærø. Senere 1 i Belgien og 6 har ingen kendt grav.
Se tegning af besætningen på en B-17, Foto af en B-17 + B-17 i airmen.dk samt B-17 Ball Turret, Ammunition og Ball Turret Gunner. 10 flyvere.

American bombers on a bombing raid to Kiel (here) on 13 June 1943 were attacked by German fighters over the Baltic Sea, where a number were shot down.
About 10 a.m. 3 bombers and 3 German fighters were seen from Langeland (here) crashing into the sea. 5 or 6 opened parachutes were seen.
Later perished crew members from 3 different bombers ended on Langeland. (Source: FAF)
T/Sgt Louis L. Julliard and 2nd Lt Glenn W. McMurty from B17 42-29702, 2nd Lt Herbert C. Wood from B17 42-30118 and 2nd Lt Wilson F. Brown from B17 42-3187
were all buried in Magleby Churchyard, Langeland. Transferred to Ardennes American Cemetery in Belgium on 7 May 1948. (Source: FAF) His name is not in the ABMC records, so most likely he was buried in a private cemetery in the U.S.A. There is still a wooden cross with a metal plate in his memory in Magleby Churchyard!
The bottom line on all metal nameplates "Hjemført til U.S.A." means "Taken home to the USA". See the map USAAF.

"2nd Lt McMurty was found south of Langeland (maybe about here) on 6 July 1943 and buried on 8 July 1943." (FAF)

2 airmen from B17 42-29702 were buried in Magleby, Langeland and 1 in Rise, Ærø. Later 1 in Belgium, and 6 have no known grave.
See a drawing of the crew of a B-17, Photo of a B-17 + B-17s in airmen.dk and B-17 Ball Turret, Ammunition and the story of a Ball Turret Gunner.
This B-17 Flying Fortress was from 336 BS, 95 BG, 13 CBW, 3 BD, 8 AF. See 95th Bomb Group (H). It took off from RAF Framlingham (Parham) - USAAF Station 153.
10 airmen.