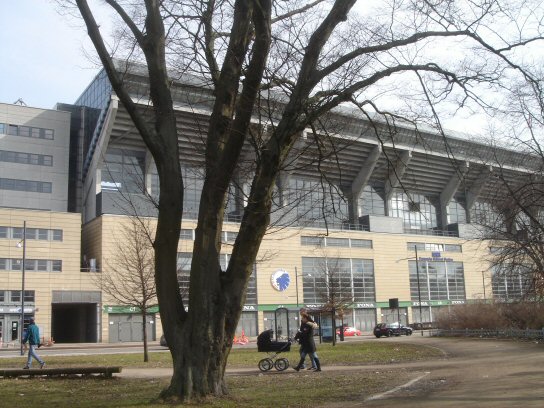 MUS HK460 tog del i angrebet på Gestapos hovedkvarter i
København den 21. marts 1945. Se Fotos og Google Map Shellhuset.
Se links om Shellhuset, også RAF mindetavle og p412MACR.
Se også Kort over angrebet på Shellhuset fra Derek Carter.

Den blev ramt af flak placeret på Nyboder Skole her og styrtede ned i Fælledparken her ved Øster Alle 37, 2100 København Ø.
F/Lt David Arthur Drew nåede at sige lidt til en dansk brandmand, inden han døde. Maskinen blev totalt ødelagt, og to træer blev skadet så
meget, at de for nogle år siden blev erstattet af de to unge træer, der
ses på billedet. De andre træer i området er fra 1909, hvor Fælledparken blev grundlagt. I baggrunden ses PARKEN, hjemsted for FCK og for det danske fodboldlandshold.
Se P-51 Mustang - Photos. McFarlane så MUS HK460 lige før styrtet!



MUS HK460 took part in the attack on the Gestapo HQ in Copenhagen on 21 March, 1945. See Photos and Google Map Shell House. Map of the air raid on the Shell House from Derek Carter.
See links about the Shell House, also RAF memorial tablet.
It was hit by flak from Nyboder Skole here and it crashed into the
Fælledparken here at Øster Alle 37, DK-2100 København Ø.
F/Lt David Arthur Drew managed to talk a little to a Danish fireman
before he died. The plane was totally destroyed and some trees were damaged so much that some years ago they were replaced by the two young trees in the picture.
The other trees in the area are from 1909 when Fælledparken was established. Parken in the background is the home of FCK and the Danish National Football Team.
See P-51 Mustang - Photos. Major McFarlane saw MUS HK460 just before it crashed. This Mustang from No. 64 Squadron RAF-Wikipedia took off from RAF Fersfield. See p412MACR.1 airman.