Drama in the night Received from Gunnar Hounsgaard På dansk 15 SEP 2011 Propeller from HAL LL235 after wreath laying on 23 APR 2010

HAL LL235 crashed about here at Tranerodde on 23 April 1944. See Monument erected here.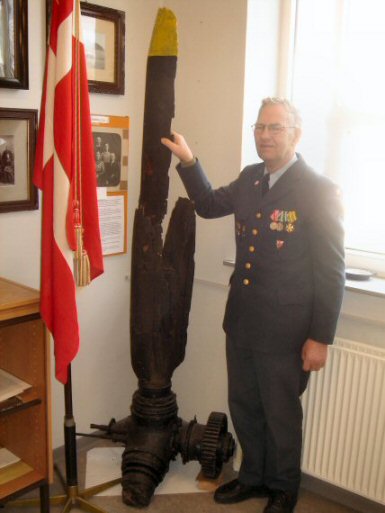 Article from Jydske Tidende on 30 April 1972:

Drama in the Night in the Air off Als

Sports divers from Sønderborg help clearing up
events off Traner-odde 28 years ago By J. Vaupell Christensen
The sea covers up all tracks - the British author Nicholas Monsarrat wrote a number of years ago.
Then it was an approximate truth but due to the efficient scuba diving equipment of our time it is possible today for people practising this sport to move over the seabed and watch remnants of the past. It may be objects from the stone age, but there may also be things that silently bear witness
to great dramas of later wars.
In the autumn of 1967 members of Sønderborg Sports Diving Club found on the bottom of the
Lillebælt about 200 metres off the Traner-odde Lighthouse a number of parts of a big plane from
World War 2. Rather soon it was established that it was a 4-engined allied plane that crashed
into the sea after an aerial battle one evening in the spring of 1944. Conversations with local
residents also made it clear that there had been only one survivor, but apart from that nobody
really knew what had happened.
Investigations, assisted by private citizens as well as helpful people from authorities, uncovered the
story of the end of an aircraft near the coast of Als. A story not different from thousands of similar
cases in Europe and Asia in the years 1939 - 1945, but it took place here where we have our daily
lives.
Flight Lieutenant E. N. (Ted) Thompson from the Royal Air Force was not a novice in his job as the pilot of a bomber, when he met his destiny over Als. He had flown many operations with his Halifax Mk-II aircraft. His last sortie with it 5 weeks before the crash near Traner-odde also became the last
one for a couple of his crew mates.
On 16 March 1944 Thompson and his crew participated in an operation over France, and here their plane was hit so severely that 2 of the 7 airmen were injured, one
of them so seriously that he died while the plane was still over France. The other one was hit in his face. Thompson made a quick choice and decided to try getting
back to England with the damaged plane. He wanted to take the wounded airman to medical treatment in England and he wanted to bring his perished crew mate
home, so that he could rest in English soil. Nothing would have been easier for Thompson than to choose a forced landing in France, be taken prisoner and then later return from captivity, but Thompson made his choice to save his mates and in that way he fell out of the frying pan into the fire 5 weeks later. Thompson managed to
fly back with the damaged plane. For that performance he was awarded the British medal for acts of gallantry, the Distinguished Flying Cross.
Thompson and the 4 remaining members of the old crew were now joined by 2 new men, Pilot Officer McClelland and Flying Officer Robbins - and then they were fit for fight again. The destroyed plane was replaced by a Halifax Mk-V, a later version of the welknown aircraft, but basically identical with Thompson's old plane.

We do not know how many missions they flew with the new plane, but we know that on 23 April 1944 Thompson's Squadron (No. 77) was detailed to lay mines in the Baltic Sea, more accurately on the position 54.48N og 12.42E, an area south of Møn. However, Thompson's plane never reached the Baltic Sea and a number of other planes in the operation were also shot down on the flight over Denmark.
Thompson took off from his base in England at about 20.00 hours on 23 April. He set course across the North Sea to reach the Baltic Sea via South Jutland, but
Luftwaffe were on the ball that night. The radar warning systems in the British planes soon told the crews that German night fighters were searching them, and one of
the planes in which the alarm was heard was Thompson's. A Messerschmitt Bf-110 fighter from NJG-3 caught the Halifax somewhere west of Als and a duel in the air began. In the end the Halifax caught fire and it was hit by an explosion over Svenstrup. The plane crashed into the Lillebælt about 200 metres north east of Traner-odde Lighthouse (here) at 23.20 hours on 23 April 1944.
Observed the air crash
Fisherman Christian Hansen observed the air crash from Torup Strand and at once he sailed out in his boat to help if possible. He heard cries of help at sea an in spite
of the darkness he managed to find the sole survivor from the crash, Sergeant D. Harris. According to Harris also another member of the crew had managed to get out
of the plane, but he drifted away in the darkness. Harris was perished with cold after his stay in the cold water and he was to be taken to the hospital in Sønderborg in
an ambulance. The then police constable Hans Lind from Sønderborg had showed up and he joined Harris in the ambulance. However, soldiers from the German
garrison in Sønderborg were heading for Traner-odde. They stopped the ambulance near Bro and Harris was taken to Sønderborg Barracks. Police constable Lind had
to join Harris to the barracks, as the Germans found it a little hard to understand the effort to take Harris to the hospital instead of handing him over to the German authorities, but after an hour Lind was allowed to go.
(Addition by Gunnar Hounsgaard on the newspaper cutting: Agergaard, Danfoss carried him on his shoulders to the beach, in water reaching his shoulders.)

What later happened to Harris remains uncertain. It has not been possible to trace him, but there is a chance that he made it home in 1945.
(D.M.M. Harris is listed in Air Force PoWs 1939 to 1945 as a prisoner of war in L6 - Stalag Luft VI Heydekrug - Stalag Luft 6 - Stalag Luft 6 POW Camp. AS)
On 27 May Thompson was found in the water at the crash site. On 31 May Sergeant Redall was found on the beach near Himmark. Both of them were buried in
Aabenraa. McClelland drifted ashore near Assens, and Flight Sergeant Harvey near Faaborg and they were buried in these towns.
Sergeant Armstrong was never found and neither was Robbins, officially. However, there are indications that Robbins drifted ashore near Havnbjerg Wood and that he
from was taken to Aabenraa and buried there as an unidentified airman. In their hunt for souvenirs thoughtless people had removed his ID tags.

Right after the air crash parts of the wreckage and the mines on board were recovered, but today debris from the big plane is scattered over the seabed off the
lighthouse - silent memorials to the drama one night in the spring of 1944 off the coast of Als. By now the sports divers have visited the wreckage several times. Lately they have fetched one of the big propeller blades from the site. Now the propeller blade is incorporated into the collection of objects on display in and outside their club house on the harbour at Verdens Ende, Sønderborg. (The propeller blade was picked up from the seabed on 9 April 1972. The photo of the propeller in 2010 is from Stevning School on Als. AS)