Stadil 4 September 2013 1 2 3 4 5 6 7 8 9 10 11 12 13 14 15 LAN EE138 Stadil Flyverminde Stadil Memorial Updated: 06 OCT 2016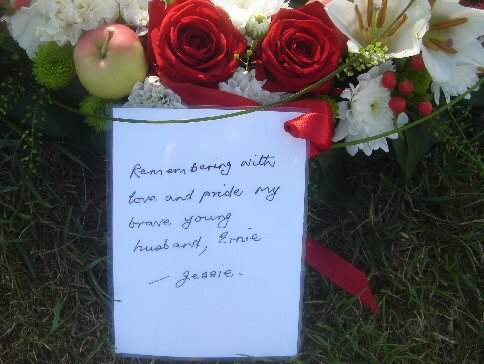 Jessie May giftede sig med Ernest Albert Cecil Thirkettle, men han omkom ved Stadil i 1943. Hun blev gift igen i 1947. Jessie Bowler blev enke igen i 2006.
Se også E.A.C. Thirkettle - Panel 166 og Kvinder. Hun døde i 2016, 93 år gammel, efter kort sygdom og til det sidste med sine fulde åndsevner, skrev hendes datter.
Livet må gå videre. Doris Hendrick og hendes mand fik 2 dage efter brylluppet - og de mødtes aldrig igen! Hun blev gift igen i 1947.
Eileen Kingston mistede sin kæreste Ernest James Presland en måned inden de skulle giftes. Piloten Young omkom. Hans ven giftede sig med hans kæreste.
De 3 sønner fik først historien at vide om deres mors forlovelse med Young, da deres far lå for døden. Så tog de til Danmark for at få mere at vide om Young og
MAN L7399.

Jessie May married Ernest Albert Cecil Thirkettle who perished near Stadil in 1943. She married again in 1947. Jessie Bowler became a widow again in 2006.
See also E.A.C. Thirkettle - Panel 166 and Women. She died in 2016 aged 93 after a short illness. She remained mentally sharp right to the end, her daughter wrote.
Life has to go on. Doris Hendrick and her husband had a honeymoon of 48 hours - and they never met again! She remarried in 1947.
Eileen Kingston lost her fiancée Ernest James Presland a month before they were to marry. The Pilot Young perished. His friend then married his fiancée. The 3
sons were not told about their mother's engagement to Young until their father was dying. Then they went to Denmark to learn more about Young and MAN L7399.