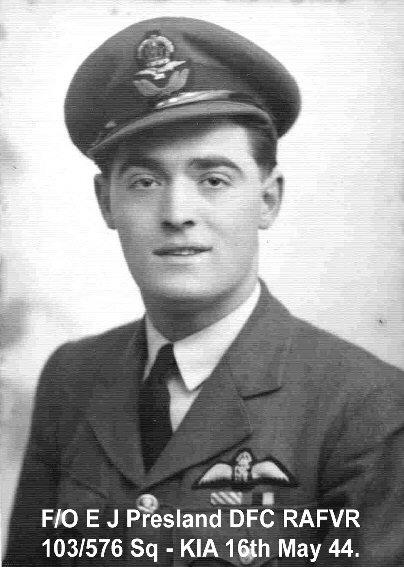 Ernest James Presland - Photo Updated: 18 NOV 2014

Foto af Flying Officer E. J. Presland før han blev Flight/Lieutenant.
fra David W Fell, webmaster på hjemmesiden fra RAF Elsham Wolds Association.
Samme foto ses i artiklen Den nat himlen faldt ned af Lone Theils i Berlingske Tidende
lørdag den 24. april 2004 om kontakt med efterkommere af flyverne.

Photo of Flying Officer E. J. Presland before he became a Flight/Lieutenant.
from David W Fell, webmaster of the Homepage of the RAF Elsham Wolds Association.
The same photo is shown in the article Den nat himlen faldt ned (The night the sky came down)
by Lone Theils in Berlingske Tidende on 24 April 2004 about the crash of LAN ME726 in Gamtofte here.
The Daily Telegraph printed a letter from Denmark and that led to contact with descendants of
Flight Lieutenant Ernest James Presland.
See Danes seek to honour relatives of war crash RAF crew by Julian Isherwood.
"He was my father´s cousin," says Ruth French, who for the first time read the story about
what happened to "Ernie" in the British newspaper.

She planned to go to Denmark for a memorial ceremony on 16 May 2004.
"I take it as a very great honour to be allowed to represent my family at the ceremony in Denmark.
It will be a great experience," Ruth French says.
Actually also his fiancée Eileen Kingston came with her brother and his daughter.
Also her son came, just in time for the memorial service.
Eileen Kingston and he were to marry a month later, she tells in the article
After 60 years families visit aircrew´s graves.