Diana Ramsay at the memorial stone in Bøgballe in 1998.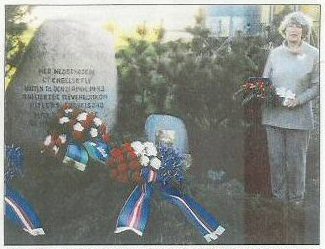 Visitors from New Zealand by Inge Panduro, Hedensted Avis. (From the summer of 2004)

Diana and Brian Ramsay from New Zealand
laid flowers at the memorial stone to airmen in Bøgballe.

The other day there was a small informal ceremony at the memorial stone to the fallen airmen in Bøgballe.

Diana and Brian Ramsay from New Zealand laid flowers during their visit together with the Vejle Fjord
Company of the Danish Home Guard who since 1997 have made it a tradition to lay a wreath at the memorial stone on 4 May.

Diana Ramsay is the niece of the Air Bomber (F/Sgt Frank Upton) of the plane from the Royal New Zealand
Air Force that was shot down on 21 April 1943. (See RNZAF in World War 2. AS)

Earlier the Ramsays visited the Municipality of Hedensted in 1998, when they managed to find the crash site
at Bøgballe. It was in the year when the Company from Hedensted of the Danish Home Guard had made a plate with the names of the fallen. It was placed at the memorial stone, and it was to be unveiled on 4 May that year. The Danish Home Guard had asked Mayor Jørn Juhl if he would like to unveil the plate and deliver a memorial speech. But when Diana Ramsay appeared, the Mayor courteuosly stepped back and left the unveiling of the name plate to her.

Current contact
Since then the Danish Home Guard via Press Officer Arne Rosenkvist has been in touch with the Ramsays in New Zealand where Arne and Nancy Rosekvist have
visited them.

On Monday morning the Mayor received the Ramsays at the Town Hall. They have a special relation to Bøgballe and the Municipality of Hedensted.
As Brian Ramsay said earlier: We are grateful for what you did to our fallen.

After the small ceremony at the memorial stone to the airmen the visitors drove to the Home Guard District of Vejle, where the Chief of the District Major Finn Prip had
invited them to a cup of coffee.

The visit to Denmark also includes a visit to the cemetery of fallen Allied airmen in Esbjerg. (The crew of STI BF506 was buried here on 30 April 1943. AS)

Monument to 7 airmen from STI BF506 erected here by Mads Nielsen, Bøgballe. See Official visit 1985 * At the monument 2008 and in 2011.