Pæl på nedstyrtningsstedet - Pole marker at the crash site Links Photos: AS 14 JUN 2013 Updated:19 OCT 2013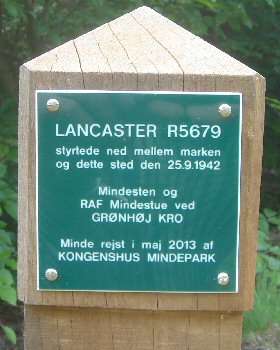 Fra hjørnet af marken ved nedstyrtningsstedet ses Resenfeldevej 17, som flyet passerede på vejen ned.

From the corner of the field you see Resenfeldevej 17 which the plane passed on its way down.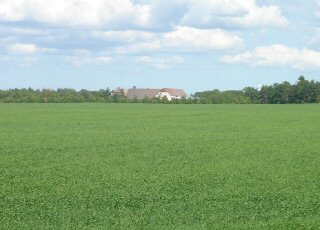 Den 25. september 1942 kom LAN R5679 fra øst og styrtede ned mellem marken og denne pæl, der er her, overblik her og her. Se Luftfoto Grønhøj.
Fra Grønhøj finder man stedet at køre ad Resenfeldevej og gå ind på skovvejen i vejknæk efter golfbanen. Der er 550 m til pælen, der er i nordkanten af bæltet
af vragstykker.
Se beretninger fra Bent Krath og Tage Filbert og Gudrun Laigaard. Tekst fra Lancastergruppen opsat af Knud Gaarn-Larsen og Gerhardt Hørdum på pælen,
der blev rejst af KONGENSHUS MINDEPARK.



On 25 September 1941 LAN R5679 came from the east and crashed between the field and this marker pole which is here, overview here and here.
From Grønhøj you find the site by driving along Resenfeldevej and walking into the wood along the forest road where the road bends after the golf course.
Then there are 550 metres to the marker pole at the northern edge of the trail of pieces of wreckage.
See Aerial photo Grønhøj * Bent Krath * Tage Filbert * Gudrun Laigaard. The marker pole was erected by KONGENSHUS MINDEPARK in May 2013.

The inscription from the Lancaster Team mounted by Knud Gaarn-Larsen and Gerhardt Hørdum reads
LANCASTER R5679 crashed between the field and this spot on 25.9.1942. Memorial stone and RAF Memorial Room at GRØNHØJ KRO.
Memorial erected in May 2013 by KONGENSHUS MINDEPARK.