Photo of Lancaster R5679 QR - O Links Photo from Mike Brewser Updated: 16 MAR 2013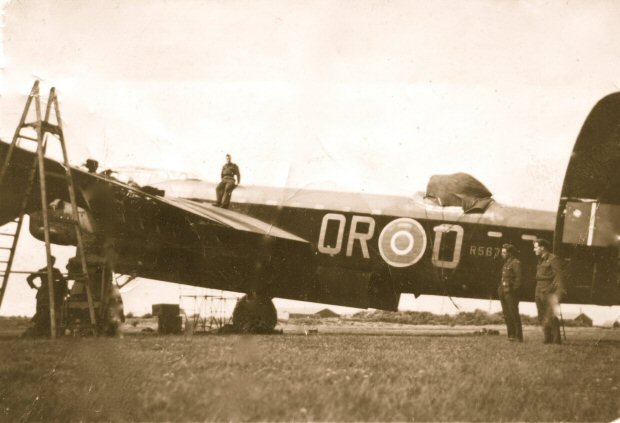 Se også
Flytyper
Lancaster fotos
Lancaster Bomber - nødudgange
Flere nødudgange
Tab af liv - især de sidste linjer.




See also
Types of planes
Lancaster photos
Lancaster Bomber emergency exits
More exits
Loss of Lives - particularly the last lines.



Den 25. september 1942 styrtede Lancaster R5679 QR - O ned her, tæt på her, overblik her vest for Resenfeldevej 17, 7470 Karup nær Grønhøj, ca. 15 km SV
for Viborg. Se Links. En flyver blev dræbt, da han ramte jorden her. * T. R. Bevan * I 1942 faldt et fly ned i Grønhøj * Flybesætning mindes

Dette foto af flyet blev taget efter 19. august 1942, da det blev beskadiget af flak under angreb på et 10.000 tons tankskib af Altmark-klassen. (Kilde: Mike Brewser)
Flyet tog del i vigtige operationer startende med et bombetogt til Bremen 5-6 juni 1942. Da LAN R5679 gik tabt havde det nået 165 timer.



On 25 September 1942 Lancaster R5679 QR - O crashed here, at close range here, overview here west of Resenfeldevej 17, 7470 Karup near Grønhøj about
15 km SW of Viborg. See Links. One airman was killed, when he hit the ground here. *T. R. Bevan*In 1942 a plane fell down in Grønhøj*Aircrew commemorated
This photo of the aircraft was taken after 19 August 1942 when it was damaged by flak attacking an Altmark class tanker 10,000 tonnage. (Source: Mike Brewser)
It took part in a number of key operations starting with a bombing raid on Bremen 5/6 June 1942. When lost LAN R5679 had a total of 165 hours.