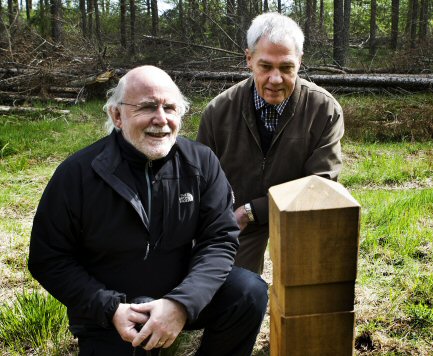 Photo adapted by Anders Straarup. See it at the crash site and in the article in Viborg Stifts Folkeblad, part A+B
Caption in this article:
This photo from our archives is from the unveiling of the memorial stone at the Grønhøj Kro.
In front of Anders Straarup is a Scotsman whose uncle was among the British airmen shot down over Denmark. Photo: Preben Madsen.
At a gathering in Copenhagen on Friday afternoon Anders Straarup of Randers was honoured with the Ellehammer Challenge Cup for 2018.

Anders Straarup was given the award for his effort with www.airmen.dk which in an outstanding way deals with Allied airmen shot down over Denmark during World War II. The material is of such a high quality that it will be preserved by the National Museum of Denmark, when Anders Straarup (born 1944) has passed away.
The Ellehammer Challenge Cup was instituted in 1992 by The Danish Aviation Writers' Club.
The first recipient was also from Randers, namely Captain Stefan Rasmussen.
Since then the award has been given away every year according to the statutes "to a man or a woman – for instance a pilot, an inventor or a constructor – who has continued the pioneer work of Jacob Chr. Ellehammer for the benefit of the development and safety of aviation."

Ellehammer, whose name is on the award, was a Danish pioneer of aviation who in 1906 accomplished the first flight in Europe.
Among former recipients of the award are Lieutenant General, later Chief of Defence
Chr. Hvidt in 1996 and astronaut Andreas Mogensen, who was awarded the prize in 2015.
Anders Straarup started using his skills on the internet and his knowledge of history, when he had retired as a teacher at
Havndal Skole after nearly 40 years.
Here he also used computers.

For a start Anders Straarup put the
Randers Tapestry on the internet with information about the history of Randers and the area around Randers. However, the big project was www.airmen.dk which has resulted in lectures in Denmark and much more. In 2013 a memorial stone was erected at the Grønhøj Kro in honour of a crew that crashed near the inn.

Of course Anders Straarup is delighted with the award and he also sees a positive effect.

It is very well if this award increases the interest in the the efforts of Allied airmen during the war, he states.

The prize was awarded at Clarion Hotel in Copenhagen Airport.


* * * * * * * *
See the cup and Ellehammer's plane 1906,
Ellehammer Replica and
Photos of 1906-plane reconstructed



Ellehammer lifts off with aeroplane, 1 min.
Jacob Christian Hansen Ellehammer video
3:17, comments by his son Hans.