Skælskør Kirkegård - General Cemetery Photo 25 SEP 2017 by AS Updated: 12 JAN 2020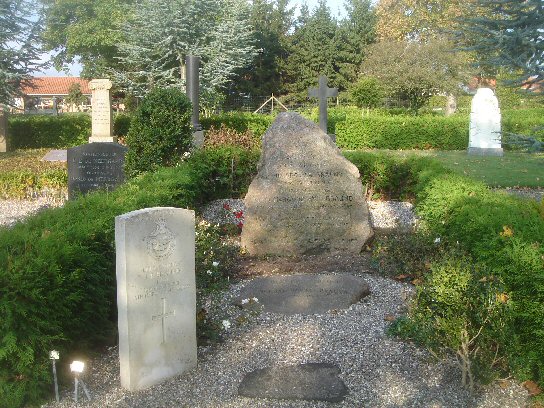 Skælskør, 1 flyver.
Hans bror, der ikke har en kendt grav, er også mindet.

Skælskør Kirkegård, Rådmandsvej 18 (kontor), 4230 Skælskør i
Slagelse Kommune.

Se det danske monument og tvillingerne Braund
sten for forældrene og Efterskrift.
En gravsten for moderen, en mindesten for faderen!

Indgangen er her til Skælskør Kirkegaard på Rådmandsvej 25.
Gravstedet er her. Zoom.
Se grave for Anders Bjørnvad og Kirsten Bjørnvad.
Se også en grav i Marstal og en grav i Karlslunde.



Skælskør, 1 airman.
His brother, who has no known grave, is also on the monument.
Skælskør Kirkegård, Rådmandsvej 18 (office), DK-4230 Skælskør
in the Municipality of Slagelse.

See the Danish monument and the Braund twins
stone to the parents and Post-script.
A gravestone to the mother, a memorial stone to the father!
The entrance is here to Skælskør General Cemetery, Rådmandsvej 25.
This plot is here. Zoom. See the plot with Anders & Kirsten Bjørnvad.
See also a grave in Marstal and a grave in Karlslunde.


| | | | | | | | | | | | | | |
| --- | --- | --- | --- | --- | --- | --- | --- | --- | --- | --- | --- | --- | --- |
| Airman | Surname | Init | Rank | Service | Sqdn | P_link | Plane | Operation | Crash_site | Crash_d | Buried_d | C_link | At_Next |
| a088001.htm | Braund | J P | F/Lt | RAF | 77 | p396.htm | HAL MZ924 | Minelaying | Smålandsfarvandet | d150245 | b140545 | c088.htm | Skælskør |