The Braund twins, in Toronto, where they received their commissions.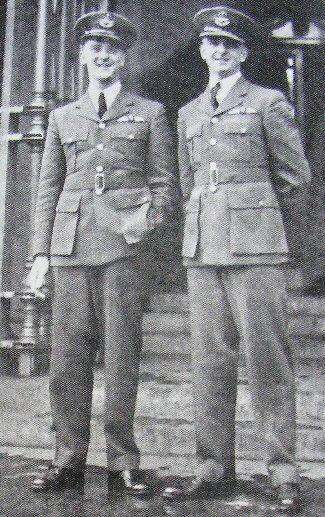 Photo from The Price of Conflict, by Michael Braund, the Braund Society via Janet Few. From the book:

"Marwood Paul Braund: born 23 August 1922; died 12 January 1945
John Prower Braund: born 23 August 1922; died 15 February 1945

Marwood Paul (known as Paul) and his brother, John Prower (John), were twins, born on 23 August, 1922, in Plymouth, Devon, the sons of William Powell Braund and Greta Emily Braund (née Paul). When the boys were young they lived at Marwood, Stoke Lane, Westbury-on-Nym in Bristol and at 6 Colston Street, also in Bristol. Their father, who was a life assurance district manager, travelled to and from New York and Quebec while the boys stayed at home, presumably with their mother. As they grew up, the boys would accompany their parents on voyages. In August and September 1933, the boys travelled to Rangoon, via Liverpool and Marseilles, from their home at 150 Whitmore Road, Harrow and back (travelling 1st class). At some stage, Paul attended Merchant Taylor's School.

In 1942, aged 20, Paul and John enlisted for the Royal Air Force Volunteer Reserve at St. John's Wood in London. From there they were posted to Paignton. Shortly after, the twins were in Waco, Texas, for further training. From there they went to Toronto, Canada, to receive their commissions as Flight Lieutenants (the Commissions could not be conferred in America) and thence back to Waco, where they trained American fighter pilots. In a letter to his parents, dated Sunday 15 May, and written from the Waco Army Flying School, John describes his frustration of being in Waco. "It is a strain of having the best of everything" and "I am getting rather tired of helping to win the war from the backseat of a B.T. 13". He and Paul managed to get in some flying in light liason planes, to relieve the boredom, and he tells of plans to fly to Chicago and Milwaukee for a spot of R and R. (Rest and Recuperation)

By the end of 1943, Paul and John were back in the UK. Here, there was no further need for fighter pilots and the twins trained as bomber pilots. On 4 November 1944, Paul was posted from no. 41 base, Marston Moor, to no. 77 Squadron, at Full Sutton. John followed on 7 November. Both were promoted to War Substantive Flight Lieutenants with effect from 10 November 1944. At this point in the story of the twins we will look at them individually."