Randbøl Kirkegård - Churchyard Updated: 01 AUG 2021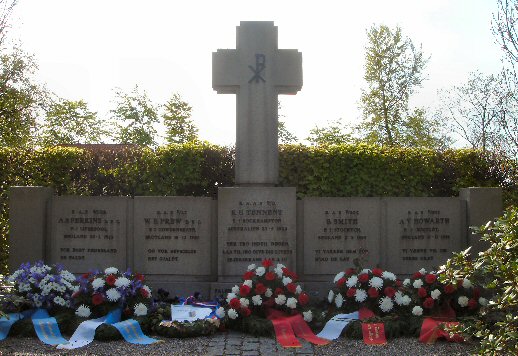 Randbøl, 5 flyvere.
Randbøl Kirke, Randbølvej 69, 7183 Randbøl i Vejle Kommune.
Indgangen er her. Dette gravsted er her nord for kirken.
Se hele teksten. Se også A.S. Perkins og Brev fra præsten i Randbøl 1947.
Kransene er set 5. maj 2008 - lagt 24 timer før. Hør Frihedsbudskabet.
Se 4. Maj 2017 af Niels Schaiffel. En mindesten er nu her nær
Høgsholtvej 273, 7100 Vejle, nær nedstyrtningsområdet.
Se informationstavle på Randbøl Kirkegård og kirken på nettet.
Se Google Map HorsensEH47 med 47 flyvere omkommet nær Horsens.



Randbøl, 5 airmen.
Randbøl Kirke, Randbølvej 69, DK-7183 Randbøl in the Municipality of Vejle.
The entrance is here. This plot is here north of the church.
See all of the text. See also A.S. Perkins and Letter from Randbøl 1947.
The photos of the wreaths are from 5 May, 2008 - laid 24 hours earlier in the evening, when the liberation of Denmark was announced in a broadcast
from the BBC, London. More about the announcement of the surrender.
See 4. Maj 2017 by Niels Schaiffel. A memorial stone is now here near Høgsholtvej 273, 7100 Vejle, near the crash site area.
See the information board in Randbøl Churchyard
and the church on the internet.
See Google Map HorsensEH47 with 47 airmen perished near Horsens.