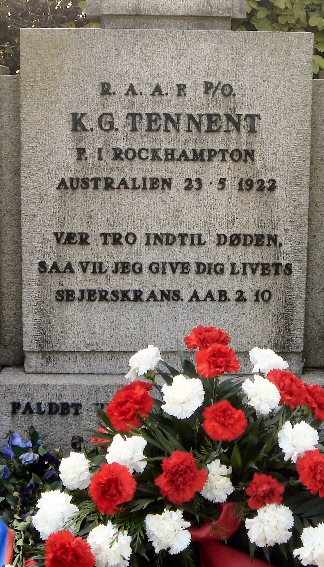 Keith George Tennent Updated: 03 OCT 2021
Airman: a074005.htm Surname: Tennent Init: K G Rank: P/O Service: RAAF Sqdn: 83
P_link: p351.htm Plane: LAN PB292 Operation: Bomb G Crash_site: Høgsholt near Vejle
Crash_d: d270844 Buried_d: b080946 C_link: c074.htm At_Next: Randbøl

LAN PB292 eksploderede i luften og vragstykker faldt ned over et stort område nær Vejle. (Kilde: AOD)
En mindesten er nu her nær Høgsholtvej 273, 7100 Vejle, nær nedstyrtningsområdet.
5 flyvere omkom, og tyskerne gravede dem ned omkring 20 km mod vest ved Vandel Flyveplads (her).
De blev fundet i 1945, identificeret og begravet ved Randbøl Kirke. Se 4. Maj 2017 af Niels Schaiffel.
Se hele teksten på mindesmærket. Ved denne flyver er tekstudsnittet fra Johannes´ Åbenbaring:
Vær tro indtil Døden, saa vil jeg give dig Livets Sejerskrans. Aab 2.10
Pilot Officer Keith George Tennent, 22 år, var søn af Walter James Tennent og Margaret Helena Tennent, Rockhampton, Queensland, Australien. (Kilde: CWGC)
Se hans navn blandt 47 navne i St. Clement Danes og i Horsens.
5 flyvere fra LAN PB292 blev begravet i Randbøl. 2 flyvere blev ført til Tyske krigsfangelejre. Se Lancaster fotos.

LAN PB292 exploded in the air and debris fell in a very big area near Vejle. (Source: AOD)
A memorial stone is now here near Høgsholtvej 273, 7100 Vejle, near the crash site area.
5 airmen perished, and the Germans dug them down about 20 km to the west at Vandel Airfield (here).
They were found in 1945, identified and buried at Randbøl Church. See 4. Maj 2017 by Niels Schaiffel.
See all of the text of the memorial here. At this airman the extract is (John´s Revelations 2:10)
Remain faithful even to the point of death, and I will give you the crown that is life itself.
Pilot Officer Keith George Tennent, 22, was the son of Walter James Tennent and Margaret Helena Tennent,
of Rockhampton, Queensland, Australia. (Source: CWGC)
See his name among 47 names in St. Clement Danes and in Horsens.
Virtual War Memorial Australia has this.
He is remembered on The Walls of Names at the International Bomber Command Centre, Phase 1, Panel 105.
5 airmen from LAN PB292 were buried in Randbøl. 2 airmen were taken to German POW-Camps.

See 5 airmen from this plane among 47 names in London and Horsens * Google Map HorsensEH47 * No. 83 Squadron RAF * Lancaster Photos * p351MACR
Lancaster III PB292 OL-S took off from RAF Coningsby at 2030 hrs on 26 AUG 1944 targeting Königsberg. (Source: Aircrew Remembered has this) 7 airmen.