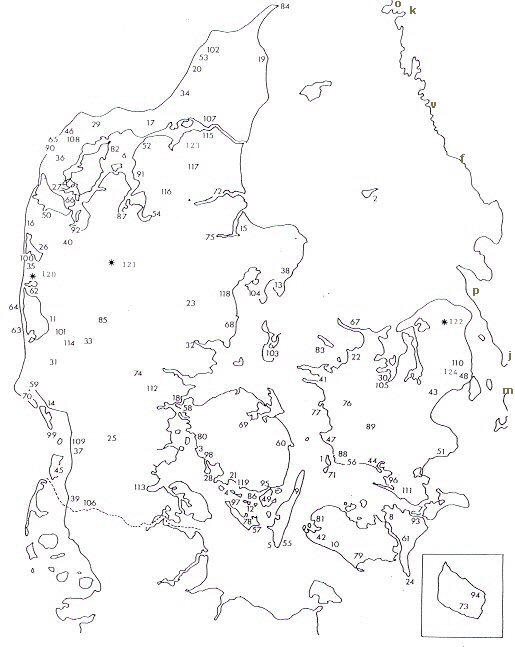 Cemeteries or next step -
kirkegårde eller næste trin
Updated: 12 APR 2021



Klik på et nummer for at se kirkegården i Danmark - bogstav i S.
Der er Findvej-luftfotos fra alle kirkegårde. Se Liste Kirkegårde Næste.
Databasen indeholder alle allierede flyvere begravet i Danmark fra fly nedstyrtet
her eller i danske farvande, samt flyvere uden kendt grav eller
begravet i andre lande og overlevende. Detaljer i Flyvere 1946 og Tab af liv.
Airman har et bogstav og 6 cifre. 3 for kirkegård/næste trin, og 3 internt.
1030 stadig begravet i Danmark 2009 (a 1038 – 7 Karup, 1 Stadil)
u 133 fra USAAF taget hjem 1948
1171 begravet i Danmark i alt. Se også Søgeformular til databasen.
e 186 e222 SWEDEN se kortet, e223 NORWAY, e333 POLAND,
KLIK: e444 Germany,e555 HOLLAND, e556 BELGIUM, e666 UK, e667 USA
e777 938 INGEN KENDT GRAV Se fotos NOV 2013 og mindeplade.
o888 629 Krigsfanger Se Tyske krigsfangelejre.
r998 21 Returnerede til England i deres fly. Se 68 Reddet af fiskere
v 149 Flygtede/ikke fanget (v999:92 til S, v997:45 til GB, v996:12 i DK)
3089 TOTAL (3087 personer) Hvorfor forskel? Se denne flyver.
5 centralkirkegårde


Click on a number to see the cemetery or try List Cemeteries/Next.
See Findvej-aerial views of all of the cemeteries. 5 central cemeteries.
The database contains all allied airmen buried in Denmark from planes
crashed here or in Danish waters, and airmen with no known grave or
buried in other countries, and survivors. See Airmen 1946 and Loss of Lives.
Airman has a letter and 6 digits. 3 for the cemetery/next and 3 within that.
1030 still buried in Denmark 2009 (a 1038 – 7 Karup, 1 Stadil)
u 133 from USAAF taken home 1948
1,171 buried in Denmark altogether. Search form for the database.
e 186 e222 SWEDEN see map, e223 NORWAY, e333 POLAND,
CLICK: e444 Germany, e555 HOLLAND, e556 BELGIUM, e666 UK, e667 USA
e777 938 NO KNOWN GRAVE Photos NOV2013 memorial tablet. (e - elsewhere)
o888 629 POW - PRISONERS OF WAR See German POW-Camps.
r998 21 RETURNED to England in their plane.See 68 Rescued by fishermen
v 149 EVD/not captured (v999:92 to S, v997:45 to GB, v996:12 in DK)
See Royal Air Forces Escaping Society with FAQ and Links
3,089 TOTAL (3,087 persons) Why the difference? See this airman.