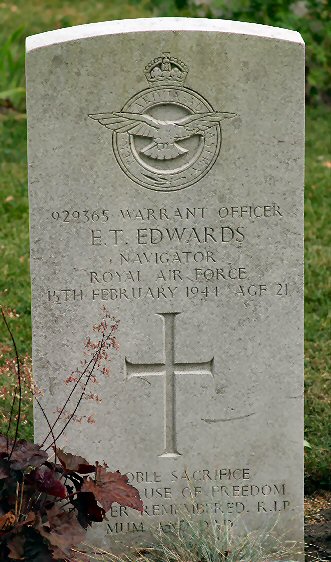 Edward Thomas Edwards Photo: Mogens Jeppesen Updated: 13 NOV 2014

Airman: a113113.htm Surname: Edwards Init: E T Rank: Wt/O Service: RAF Sqdn: 625
P_link: p262.htm Plane: LAN R5702 Operation: Bomb G Crash_site: Near Avne
Crash_d: d150244 Buried_d: b250244 C_link: c113.htm At_Next: Aabenraa, R 4-11

Natten til den 16. februar 1944 styrtede LAN R5702 omkring her ved Avne Vig.

Warrant Officer (Navigator) Edward Thomas Edwards, 21 år, var søn af Edward Somerville Edwards og Gwenllian Edwards, Camberwell, London, United Kingdom. (Kilde: CWGC) Se foto fra Aabenraa 2009.
I 1945 blev der her afsløret mindesten for de 6 flyvere. Se Informationstavle 2014 og fotos Avne 2014.
I 1949 sendte beboerne i Fjelstrup en kort erklæring og varme hilsener til de efterladtes familier og fik en
tak fra Air Ministry - og meget varme takkebreve fra forældre til Sgt H. R. Reardon, F/Sgt S. W. Downes
og Sgt R. A. Campbell er bevaret.
Hvert år den 15. februar er der en mindesammenkomst ved mindestenene.
På Fjelstrup Kro ses en mindevæg for LAN R5702, der styrtede 3 km fra Fjelstrup.
I 2009 - 65 år efter styrtet - var der fra familien Campbell et tryk af maleriet Lancaster at Rest til
mindevæggen, se avisartikel om En gave i 2009. Flyverne mindes stadig!

6 flyvere fra LAN R5702 er begravet i Aabenraa. 1 blev krigsfange. 7 flyvere.

On 15 February 1944 LAN R5702 crashed about here at Avne Vig.

Warrant Officer (Navigator) Edward Thomas Edwards, 21, was the son of Edward Somerville Edwards and Gwenllian Edwards, of Camberwell, London, United Kingdom. (Source: CWGC)
A noble sacrifice in the cause of freedom for ever remembered. R.I.P. Mum and Dad
See photo from Aabenraa Cemetery 2009.
Memorial stones to the 6 airmen were unveiled here in 1945. See Information board 2014 and Avne 2014.
In 1949 the inhabitants of Fjelstrup sent a brief statement and kind greetings to families of the airmen and
received grateful thanks from the Air Ministry - and very warm letters from the parents of Sgt H. R. Reardon,
F/Sgt S. W. Downes and Sgt R. A. Campbell are preserved.
On 15 February every year there is a gathering at the memorial stones. There is a memorial wall in Fjelstrup Inn to LAN R5702 which crashed 3 km from Fjelstrup.
In 2009 - 65 years after the crash - the Campbells gave a print of the painting Lancaster at Rest to Fjelstrup, see A present in 2009. The airmen are still remembered!

See Bomber Command No. 625 Squadron and 625 Squadron RAF. See Lancaster and Lancaster Photos.
Lancaster I R5702 CF-Y took off from RAF Kelstern in Lincolnshire at 1725 hours on 15 FEB 1944 (Source: Aircrew Remembered has this.)
Earlier this Lancaster had 24 operations with another pilot, see Roy O. Calvert - LAN R5702.
6 airmen from LAN R5702 are buried in Aabenraa. 1 became a Prisoner of War - see German POW-Camps. 7 airmen.