On 15 February 1944 LAN R5702 crashed here at Avne Vig. Overview here, at close range about here - near the Memorial stones - see Avne 2014.

On 9 November 1942 this Lancaster had been seriously damaged, so Pilot Roy O. Calvert was convinced that it had been scrapped. However, it was rebuilt.

The end of one of World War II Stories, Cambridge Museum, NZ, is this:

"In February 1944, with a different crew the Lancaster R5702 in which Roy had made 22 trips, was shot down over Denmark and lay forgotten until Leif Thomsen
found the old wing tip in a barn and started researching its history. In 1996 Roy was sent a piece of the wing from the old bomber which he had last seen when
he landed it at Bradwell Bay in England in 1942. Roy Calvert died 26 March 2002."

In 1996 Roy O. Calvert wrote a letter to Leif Gr. Thomsen who kindly sent a copy to AirmenDK. The top half is here: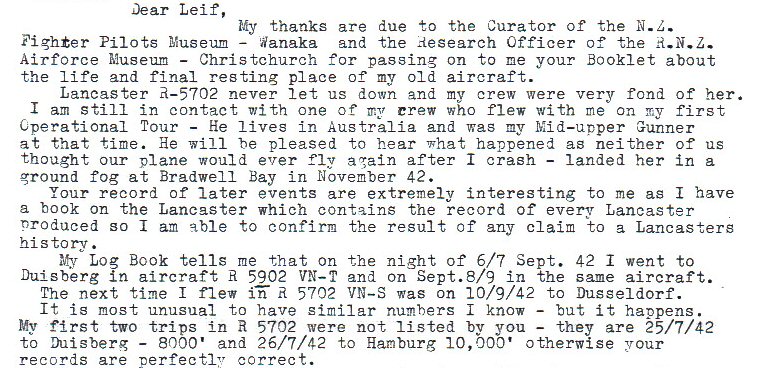 Scroll down.



New Zealand Fighter Pilots Museum closed in March 2011. The Air Force Museum of New Zealand is still very active.
The second half of his letter is here:

The Cenotaph Database of Auckland War Memorial Museum has this. See also Triple D.F.C. New Zealand Airman.
Roy Calvert's story of 9 November 1942 from a raid on Hamburg is here in excerpts from "Lancaster at War vol. 5", Garbett & Goulding:
"- - I asked Sgt Wilson to get ready to release our cargo. A few seconds later there was a crack off our port wingtip and we were sprayed with shrapnel. It sounded like
a handful of gravel thrown on a tin roof. In the cockpit a top forward panel of Perspex and the starboard blister were shattered and our intercom went dead. Then another shell burst on our port, closer this time. - -
The plane was flying left wing low and aileron trim and rudder bias were unserviceable. Then Power yelled in my ear that John Medani, just behind me, was badly wounded in the elbow and was losing a lot of blood, so I told him to put a turniquet on it, then to check on the rest of the crew and tell them all to come forward in case
we had to "abandon aircraft". - - - However, we staggered on. I had already decided we were going as far as possible, as long as we could remain airborne.
- - - I spotted the coast as we approached, a conjunction of rivers indicating the Harwich area. The next problem was to find an aerodrome willing to have us. I headed further south towards a cone of three searchlights and, sure enough, spotted a flarepath laid out in the middle. I circled round, flashing the downward recognition light
and received a "green" cone to come in and land. - - -
It wasn't till we were about 2000 ft up that I realised there was a ground fog. The flarepath lights disappeared except for two 'money' flares at the start of the runway.
Suddenly, the runway was there. We were a shade too steep with our approach so I applied power and pulled back on the stick, then cut the throttles. The wheels hit
and collapsed and we skidded along on our belly, gradually turning to starboard, pulled up the revolving props until we slid on to the grass and stopped. I switched everything off; we were home! On my way out I said goodbye and thanks to poor old Lewis Austin, my friend and wireless operator for many trips. He had been killed instantly.
After a short stay in hospital - - - I went out to pay my last respects to poor old S-Sugar. She was a sad sight - - - but she hadn't let us down for 24 ops, over France, Germany and Italy, surely reason enough for my love of the Lancaster. - - - Surprisingly, despite her battered state, S-Sugar (BI R5702 VN-S) was 'stripped to her underwear' and virtually rebuilt. - - - She soldiered on... but her days - or rather - nights were numbered. In the hands of Sgt W. Ashurst and his old hands she
attempted one operation too many and Berlin 15/16 February 1944 was her undoing. Given that 51 Februaries have slipped by since then, can we hope sole survivor
ex-Flg Off H.J. Proskurniak is with us still... never forgetting his remarkable survival?"
(Roy Calvert told the end of his own story near the end of the above letter to Leif Thomsen. AS)
(Harry Proskurniak died on 8 November 2000, see Harry Proskurniak 1915 - 2000. AS)