Lancaster I R 5702 - A present in 2009 Updated: 11 NOV 2014 Photo 5 MAR 2009 by Leif Gr. Thomsen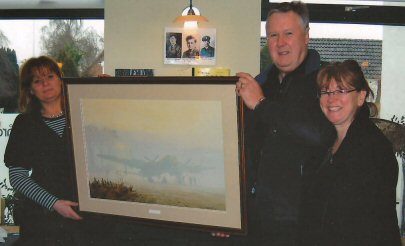 Den 15. februar 1944 styrtede LAN R5702 styrtede ned her. Overblik her, nærbillede her.
Mindesten blev afsløret her i 1945.
Siden en kort erklæring og varme hilsener fra Fjelstrup i 1949 har især familien Campbell jævnligt været på besøg. Sergeant Robert A. Campbell styrtede ned 3 km fra Fjelstrup.

Den 9. marts 2009 havde Jyske Vestkysten en artikel af Inge Rogat Møller med billedteksten:
"TAKNEMMELIGHED: Lise Thygesen fra Fjelstrup Kro modtog med glæde et maleri af et Lancaster-fly fra Ken og Ingrid Campbell. Det skotske par er taknemmelige over, at Fjelstrup- området stadig mindes nedstyrtningen af et britisk bombefly, hvor Ken Campbells onkel blev
dræbt."

En mindevæg på Fjelstrup Kro fortæller historien om den tid, da de allierede sendte mange bombeflyvere mod Hitler-Tyskland.
Hvert år den 15. februar holdes mindesammenkomst ved mindestenen ved nedstyrtningsstedet.

Sergeant Robert A. Campbell og 5 andre flyvere fra LAN R5702 blev begravet på Aabenraa Kirkegård. Print of Gerald Coulson: Off Duty Lancaster at Rest

LAN R5702 crashed here. Overview here, at close range about here. Memorial stones were unveiled here in 1945.

Since a brief statement and kind greetings from Fjelstrup in 1949 particularly the Campbells have been frequent guests.
Sergeant Robert A. Campbell crashed 3 km from Fjelstrup.

On 9 March 2009 Jyske Vestkysten had an article by Inge Rogat Møller with this caption:

"GRATITUDE: Lise Thygesen from Fjelstrup Inn was pleased to receive a painting of a Lancaster plane from Ken and Ingrid Campbell.
The Scottish couple are grateful that the Fjelstrup neighbourhood still remembers the crash of a British bomber in which Ken Campbell´s uncle was killed."
A memorial wall in Fjelstrup Inn tells the story of the time when the Allied sent many bombers against Hitler´s Germany.
Every year on 15 February there is a gathering at the memorial stone on the crash site.
Sergeant Robert A. Campbell and 5 other airmen from LAN R5702 were buried in Aabenraa Cemetery.