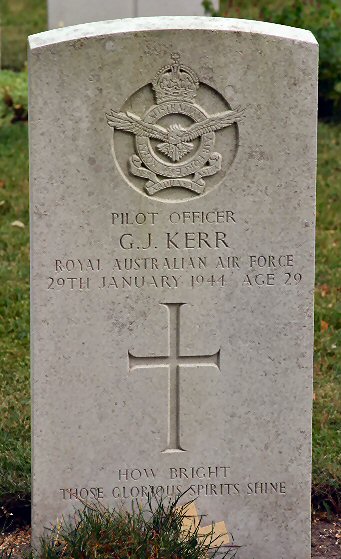 George Jeffreys Kerr Photo: Mogens Jeppesen Updated: 04 JAN 2012

Airman: a113107.htm Surname: Kerr Init: G J Rank: P/O Service: RAAF Sqdn: 463
P_link: p255.htm Plane: LAN HK537 Operation: Bomb G Crash_site: Near Mjels
Crash_d: d290144 Buried_d: b020244 C_link: c113.htm At_Next: Aabenraa, R 4-13

"Natten til den 29. januar 1944 var RAF´s bombemål i Tyskland, som så ofte før, Berlin. Ruten både ud o
g hjem gik over Danmark. 4 fly nedstyrtede denne nat over Sønderjylland, heraf 2 efter at være stødt sammen
i luften over Als." (FAF)
Det var HAL JD273 nær Kliplev, LAN JB412 nær Varnæs samt efter kollision LAN JA967 nær Broballe her
og LAN HK537 nær Mjels her.
Pilot Officer George Jeffreys Kerr, 29 år, var søn af Peter Conway Kerr og Caroline Mary Kerr, Springvale, Victoria, Australien. (Kilde: CWGC)
Se Besætningen på JA 967 og om kollisionen på dansk og Besætningen på HK 537 og om kollisionen på engelsk fra Gunnar Hounsgaard og Hærens Sergentskole.
Med filer fra Gunnar Hounsgaard til seniorsergent L.Larsen, PISEK, Hærens Sergentskole, har forsvaret
lavet hele informationstavlen sat op her. Zoom.
Se også 1944-fotos og mindesten og begge mindesten og nedstyrtningssted for JA967 og
mindetale af Gunnar Hounsgaard. 7 flyvere.

"On the night before 29 January, 1944, the target for a RAF bombing raid was, as so often before, Berlin. The route both out and home was over Denmark. 4 planes crashed this night over Southern Jutland, 2 of
them after a collision in the air over Als." (FAF)
It was HAL JD273 near Kliplev, LAN JB412 near Varnæs and after the collision LAN JA967 near Broballe
here and LAN HK537 near Mjels here.
Pilot Officer George Jeffreys Kerr, 29, was the son of Peter Conway Kerr and Caroline Mary Kerr, of Springvale, Victoria, Australia. (Source: CWGC) How bright those glorious spirits shine
See The Crew of JA967 and about the collision in Danish and The Crew of HK537 and about the collision in English from Gunnar Hounsgaard and Army NCO School.
With files from Gunnar Hounsgaard to SSG L.Larsen, PISEK, the Army NCO School, the defence has made the complete information table placed here. Zoom.
See also 1944-photos and monuments and both monuments and crash site of JA967 and commemorative speech by Gunnar Hounsgaard.
See Bomber Command No. 463 Squadron RAAF and RAF-Lincolnshire-info about this Squadron.This Lancaster took off from RAF Waddington. Lost Bombers has this.
7 airmen.