Lancaster III JA967 - Lancaster I HK537 - Monuments Photo: Gunnar Hounsgaard Updated: 22 SEP 2008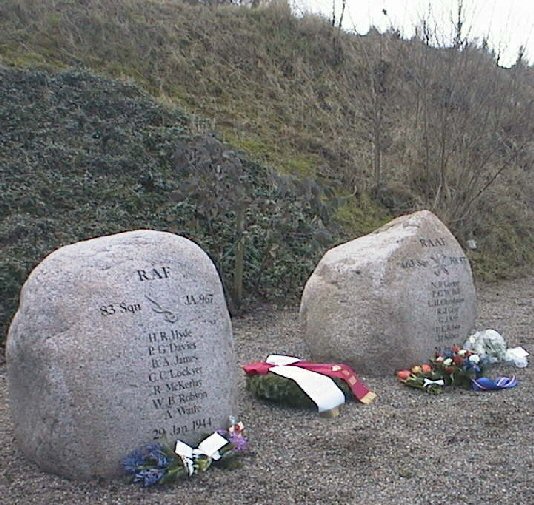 Mindesten her for flyverne fra LAN JA967 og LAN HK537
rejst på lokalt initiativ og afsløret på 50-årsdagen for styrtet, 29.1.1994
ved Næsvej mellem Broballe og Mjels,
640 m øst for Næsvej 36, 6430 Nordborg
Foto fra mindehøjtideligheden 29. januar 2007,
hvor Gunnar Hounsgaard holdt denne mindetale.

Se fotos af begge mindesten og nedstyrtningssted for JA967.
Ved mindestenene vender man sig om og ser direkte
ud over marken, hvor LAN JA967 styrtede ned her.

Memorial stones here to the airmen from LAN JA967 and LAN HK537
erected on a local initiative and unveiled on the 50th Anniversary of the crash
29 January, 1994 at Næsvej between Broballe and Mjels,
640 m east of Næsvej 36, DK-6430 Nordborg.
Photo from 29 January, 2007
where Gunnar Hounsgaard held this commemorative speech.
See photos of memorial stones and crash site of JA967.
Turn your back to the memorial stones and have a look
at the hollow in the field, where LAN JA967 crashed here.