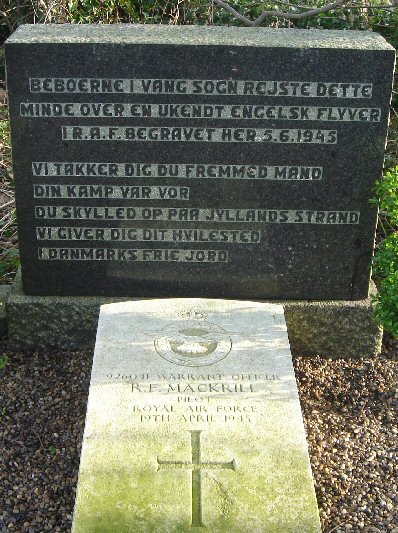 Ronald Franklin Mackrill Updated: 05 FEB 2017
Airman: a108001.htm Surname: Mackrill Init: R F Rank: Wt/O Service: RAF Sqdn: 298
P_link: p424r.htm Plane: HAL NA344 Operation: Drop in DK Crash_site: The North Sea
Crash_d: d190445 Buried_d: b050645 C_link: c108.htm At_Next: Vang

Natten til den 19. april 1945 gik et fly med våben til modstandsbevægelsen tabt over Nordsøen. Det var udsendt til en modtageplads vest for Fjerritslev (her). Alle ombord omkom. (Kilde: FAF)
4 flyvere fra HAL NA344 har ingen kendt grav. 1 er begravet i Sdr. Nissum og 1 i Vang.
Den 2. juni 1945 blev liget af R. F. Mackrill fundet drevet ind ved Vangså Nordre Strand
(omkring her). Den 5. juni førtes den da ukendte flyver fra Vangså direkte til graven her. I følget var bl.a. byens gymnaster med fane. Begravelsen blev foretaget af sognepræst I. M. Andersen. (FAF)

Warrant Officer (Pilot) Ronald Franklin Mackrill var fra United Kingdom. (Kilde: CWGC)
Arne Mosgaard om flyvergrav i Vang. 69 omkomne flyvere mindes på Mindetavlen i Rebild
og i London, se 69 flyvere - St. Clement Danes. 6 flyvere.

On the night before 19 April 1945 a plane with weapons for the Danish resistance movement
was lost over the North Sea. It was on a mission to a drop zone west of Fjerritslev (here).
All on board perished. (Source: FAF)
4 airmen from HAL NA344 have no known grave. 1 is buried in Søndre Nissum and 1 in Vang.
On 2 June 1945 the body of R. F. Mackrill was found washed ashore at Vangså (about here).
On 5 June the then unknown airman was taken from Vangså directly to the grave here.
Gymnasts from the village with the Danish flag were among the people who attended the ceremony carried out by Vicar I. M. Andersen. (Source: FAF) The inscription of the Danish gravestone reads:
"The residents of the parish of Vang erected this memorial to an unknown English
airman of the RAF buried here on 5 June 1945. We thank you, stranger. Your fight was ours.
You were washed up on the coast of Jutland. We give you your resting place in the free ground of Denmark."

Warrant Officer (Pilot) Ronald Franklin Mackrill was from the United Kingdom. (Source: CWGC) See Arne Mosgaard about this grave in Vang.
69 perished airmen from this and 14 other planes are commemorated on the Memorial Plaque in Rebild. They lost their lives on flights with weapons to the
Danish resistance. For the same reason they are commemorated in London. See 69 airmen - St. Clement Danes. See Google Map Rebild with 15 + 3 planes lost.
See No. 298 Squadron RAF*298 Squadron, 38 Group: History*Halifax Print*Halifax - BC Museum of Canada*This Halifax took off from RAF Tarrant Rushton. 6 airmen.