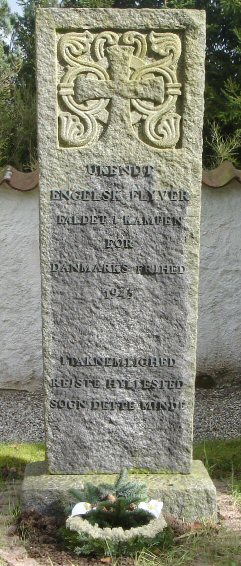 Unknown British Airman Updated: 24 AUG 2018
Airman: a038001.htm Surname: unknown Init: xx Rank: xx Service: RAF Sqdn: xx
P_link: p444.htm Plane: UNKNOWN Operation: Unknown Crash_site: UNKNOWN
Crash_d: d111111 Buried_d: b131145 C_link: c038.htm At_Next: Hyllested

Ukendt engelsk flyver faldet i kampen for Danmarks frihed 1945.
I taknemlighed rejste Hyllested sogn dette minde.
"Den 11. november 1945 fandt man ved Rugaard Strand (omkring her) liget af en ukendt mand. En officer fra RAF i Århus konstaterede senere, at der var tale om en britisk flyver. Han kunne dog ikke identificeres.
Begravelsen fandt sted den 13. november 1945 under medvirken af sognepræst T. Sadolin og Mr. Bassett, RAF, Århus." (FAF)
HAL JP336 var nødt til at nødlande på havet (måske omkring her nordøst for Gjerrild på Djursland) den 24. april 1945.
Se Google Map p427 HAL JP336.
P/O Robert L. McKinney og Sgt George G. Cockroft har ingen kendt grav og mindes på Runnymede Memorial. (Kilde: CWGC)
Se Unknown British Airman i Dråby og Unknown British Airman i Hyllested. De kunne være McKinney og Cockroft ud fra
datoer og findesteder. Hvis det er rigtigt, er det dog ikke muligt at sige, hvem der er hvor! (Kilde: Bent Agger)

Unknown English airman fallen in the battle for the freedom of Denmark 1945.
In gratitude the parish of Hyllested erected this memorial.
"On 11 November 1945 the body of an unknown man was found on the beach at Rugaard (about here). Later an officer from
the RAF in Århus established that he was a British airman. He could not be identified.

On 13 November 1945 he was buried by Vicar T. Sadolin. Mr. Bassett, the RAF, Århus assisted in the funeral ceremony." (FAF)
HAL JP336 had to ditch in the Kattegat (maybe about here northeast of Gjerrild in Djursland) on 24 April 1945.
See Google Map p427 HAL JP336.

P/O Robert L. McKinney and Sgt George G. Cockroft have no known graves. They are commemorated on the Runnymede Memorial. (Source: CWGC)
See Unknown British Airman in Dråby and Unknown British Airman in Hyllested. Dates and the places they were found indicate that they might be McKinney and Cockroft. If that is correct, it is still impossible to establish who is where! (Source: Bent Agger)