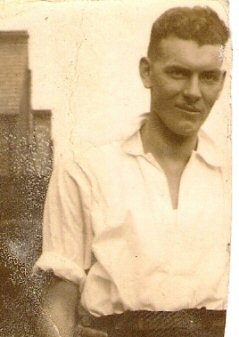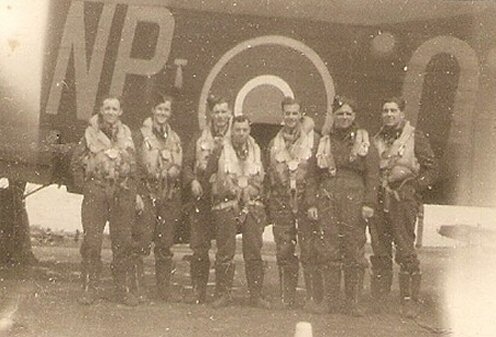 Sergeant
Stephen Alfred Symons
was the Pilot of
Hudson AM523.

Vic served in the Fire Service at the beginning of the war but immediately joined up with RAF after his brother
was killed.

The crew of his Halifax, see print.
Air Bomber Vic is the 3rd from the left.
Photo from January 1945.

See S.A. Symons
G.E.V. Symons
Family * Telegram
About Vic
Vic's log book March 1945
Vic discharged 1946



Mail from Stephen Symons about his father Victor Symons - received on 24 AUG 2012 with 7 attached files. This is much more than the story of one airman!

Dear Anders,
My cousin Margaret Balsom sent your contact details on to me and suggested that I could supply details of my father, Victor Symons, the elder brother
of Stephen Alfred Symons who died when his plane crashed into the farm in Denmark.

My father George Edward Victor Symons, known as Vic to his friends, was born in Enfield, just north of London, England on 28th January 1913, the second son and
third child of Stephen Cain Symons and Alice Marie Symons, née Slack. He trained as a motor mechanic at the Clock Garage in Enfield, and once he became a journeyman there was no more work for him at the garage and he was discharged. Jobs were very scarce at that time, but he found employment firstly as an ambulance driver then as a fireman with the Enfield Fire Brigade. He married Beryl Judith Howlett, my Mother, in Jersey on 5th June 1937.

His younger brother Stephen was killed as a result of enemy action over Denmark in 1941. Victor was thus spurred to join the Royal Air Force himself, no easy task as
he was then in a reserved occupation, which is to say one whose members were not subject to compulsory military service as it was considered that their work was essential to the war efforts. You must remember that he was a Fireman in London during the blitz! He applied for and received exemption from the War Office, and on
27th April 1942 joined RAF Bomber Command, spending his several months at the Initial Training Wing at Torquay. He was then shipped to South Africa for further
training with the rank of LAC [Leading Aircraftsman].

By early 1945 he was flying in Halifax heavy bombers on operations over Europe. Initially he served with No 158 Squadron flying out of RAF Lissett near Bridlington in Yorkshire, then with No 10 Squadron out of RAF Melbourne, also in Yorkshire. He was by this time a Flight Sergeant, his position being Air Bomber [that is to say navigator/ bomb aimer]. His regimental number was 1399449. In July of 1945 he switched from Halifaxes to flying Dakota aircraft under Transport Command, training
at towing gliders in preparation for the planned invasion of Japan. In September 1945 he was sent to India, flying Dakota to supply British and Allied forces then in
Burma. The American nuclear bombardment of the Japanese cities of Hiroshima and Nagasaki obviated the planned masses troop landings as Japan surrendered.
Victor finished his last few months with the RAF as a Warrant Officer on administration duties at Dum Dum Airport in Calcutta. He was shipped home in February of
1946, and demobilised on 1st March 1946.

Victor immediately returned to his position with the Enfield Fire Brigade, applying for and obtaining a position as workshop foreman for Whitbread Breweries in the City
of London. In September of 1956 Victor, Beryl and their two children, Judith aged 13 and Stephen aged 8, emigrated to New Zealand on the assisted passage
programme. Victor worked for the NZ Forest Service in Nelson for two years, then for the Kaiangaroa Logging Company for a year before the family moved to Auckland where Victor obtained a position as Transport Manager for New Zealand Breweries Ltd. He remained with the Breweries until he retired in 1978.

Victor and Beryl later removed to Nelson to be near to their daughter Judith, son-in-law Jim Chambers and three grandsons, Jason, Michael and Carl. Victor died in
Nelson on 4th August 1991.

I have attached for your interest a number of photographs and documents which are all self-explanatory. The group of four in the first photo are Stephen's twin sister
Alys [the mother of Margaret and Susan], Stephen's wife Ruby, and Stephen Alfred Symons.

I do hope that you find all this of use in fleshing out the narrative.

With kindest regards

Stephen Symons, City of Christchurch Town Crier, New Zealand. See also Poddimok Stephen Symons' literary pages.
He retired in June 2016 after 27 years of service. See Christchurch's Town Crier hangs up his bell and hat.