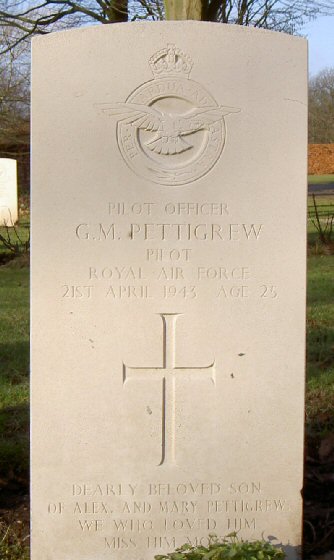 George May Pettigrew Photo: Knud Riis Updated: 13 JAN 2019
Airman: a014127.htm Surname: Pettigrew Init: G M Rank: P/O Service: RAF Sqdn: 103
P_link: p151.htm Plane: LAN ED614 Operation: Bomb G Crash_site: Vester Vedsted
Crash_d: d210443 Buried_d: b300443 C_link: c014.htm At_Next: Esbjerg, A. 10. 24

Se Mindesten for flyverne fra LAN ED614 afsløret den 21. april 2012.

"Under en stor overflyvning af Danmark natten til den 21. april 1943, hvor bombemålene var Stettin og Rostock, nedstyrtede mindst 17 fly på dansk område. Fra 8 af disse fly blev i alt 40 dræbte flyvere begravet
i Esbjerg. De 37 begravedes om formiddagen den 30. april 1943 ved den største jordfæstelse af allierede
flyvere under besættelsen. Ved højtideligheden medvirkede en tysk feltpræst, og der blev nedlagt kranse
fra både den tyske værnemagt og Esbjerg byråd." (FAF)
LAN ED614 udsendt mod Stettin her, blev ramt af en tysk natjager og styrtede ned ved Vester Vedsted
(omkring her), sydvest for Ribe. Alle om bord blev dræbt. (Kilde: FAF)
Pilot Officer (Pilot) George May Pettigrew, 25 år, var søn af Alexander og Mary Pettigrew, Glasgow,
United Kingdom. (Kilde: CWGC)
7 flyvere. Se Lancaster fotos og Stettin + Rostock 20 - 21 April 1943.

See Memorial stone to the airmen of LAN ED614 unveiled on 21 April 2012.

"At least 17 planes crashed in Danish territory during a great overflight of Denmark on the night before
21 April 1943 targeting Stettin and Rostock. From 8 of these planes 40 perished airmen were buried in
Esbjerg. 37 of them were buried before noon on 30 April 1943 at the greatest interment of allied airmen during
the occupation. A German army chaplain took part in the ceremony, and wreaths were laid from the German Wehrmacht and the Town Council of Esbjerg." (FAF)

LAN ED614 heading for Stettin here was hit by a German night fighter and crashed at Vester Vedsted (about here), southwest of Ribe. All aboard were killed. (Source: FAF)
Pilot Officer (Pilot) George May Pettigrew, 25, was the son of Alexander and Mary Pettigrew, of Glasgow, United Kingdom. (Source: CWGC)
Dearly beloved son of Alex and Mary Pettigrew. We who loved him miss him most
See No. 103 Squadron RAF - Wikipedia and Lancaster photos. LAN ED614 took off from RAF Elsham Wolds at 2141 hrs. (Source: Aircrew Remembered has this.)
Stettin + Rostock 20 - 21 April 1943. See also STI BK714 with account from S/Ldr * Expensive present on Hitler's birthday * Mads Nielsen * Lynne Truex
7 airmen.