James Hamilton Murray Updated: 27 MAY 2021 Photo of James H. Murray, 22, from his daughter Mary Brown.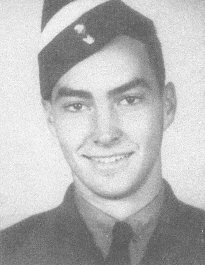 Airman: v999061.htm Surname: Murray Init: J H Rank: F/O Service: RCAF Sqdn: 77
P_link: p305.htm Plane: HAL LW270 Operation: Minelaying Crash_site: Near Hjelm, Lolland
Crash_d: d240444 Buried_d: v999 C_link: v999.htm At_Next: EVD



HAL LW270 styrtede ned kl. 23:50 den 23. april 1944 på en mark nær Hjelm, som er her. Dette fly skulle lægge miner ud for Rostock, omkring her.
"114 RAF bombefly foretog denne nat mineringer i Østersøen og 4 Halifaxes og 1 Stirling gik tabt fortrinsvis p.g.a. tyske natjagere. LW270 blev vest for Nakskov (omkring her) angrebet af en Me110 fra 10./NJG3 baseret på Westerland på Sylt (her). Flyet brød i
brand og mid-upper gunner, Sgt W.H. Loverock, der var med på sit første togt, blev hårdt såret. Alle 7 besætningsmedlemmer
sprang ud med faldskærm over den nordøstlige del af Lolland og den nordlige del af Guldborgsund (området omkring dette punkt).
3 besætningsmedlemmer (F/O (Navigator) James H. Murray, F/Sgt (Wireless Operator) Paddy W. A. Powers og Sgt (Rear
Gunner) John J. Harrison) landede på Lolland og fik hurtigt kontakt med modstandsbevægelsen. Den 29. april blev de udskibet til Sverige." (FT 86-92-27)
F/O (Navigator) James H. Murray landede i vandet ud for Bandholm på Lolland omkring her. Han svømmede ind til land og kom til Reersnæsgård, her Reersnæs Strandvej 115, 4941 Bandholm. Fru Johanne Sørensen tog godt imod ham, gav ham mad, skjulte ham i den nærliggende skov og fik kontakt til modstandsbevægelsen. Paddy Powers havde skjult sig på stranden omkring 3 km væk. Han blev fundet og kom også til Reersnæsgård. I civilt tøj cyklede de to ad bagveje omkring 25 km til Maribo her, hvor Dr Hansen skjulte dem i 10 dage på sit loft til de kom med tog til København og derfra videre med skib til Malmø. Rear Gunner John Harrison var blevet reddet af en anden modstandsgruppe, og han kom sammen med de to andre på loftet.
Kilde: Memories from World War II af James H. Murray sendt af hans datter Mary Brown til www.airmen.dk
TV2 ØST sendte 5. maj 2009 Svinø Mindehøjtidelighed (film, 3:25 min.). Se også Fotos 1 og Fotos 2.

James H. Murray og familien besøgte Danmark i august 1961. Han var læge i forsvaret i 25 år og blev hospitalsadministrator, da han forlod forsvaret. Han døde i 2003. Mary Brown og hendes søstre genså Danmark i maj 2009, hvor de igen mødte danskere med tilknytning til flugthistorien. 7 flyvere.

At 23:50 on 23 April 1944 HAL LW270 crashed into a field near Hjelm, which is here. This plane was to lay mines off Rostock, about here.
"114 RAF bombers carried out minelaying operations in the Baltic Sea, and 4 Halifaxes and 1 Stirling were lost, mostly due to German night fighters. LW270 was attacked west of Nakskov (about here) by a Me110 from 10./NJG3 based in Westerland, Sylt (here). The plane caught fire and Sergeant (Mid Upper Gunner) W.H. Loverock was severely injured on his first sortie. All 7 crew members bailed out over the northeastern part of Lolland and the northern part of Guldborgsund (the area around this point). 3 crew members (F/O (Navigator) James H. Murray, F/Sgt (Wireless Operator) Paddy W. A. Powers and Sgt (Rear Gunner) John J. Harrison) landed on Lolland and quickly got in touch with the resistance movement. They were sailed to Sweden on 29 April." (FT 86-92-27)
F/O (Navigator) James H. Murray landed in the water off Bandholm, Lolland about here. He swam to the shore and came to Reersnæsgård, here Reersnæs Strandvej 115, DK-4941 Bandholm. Mrs. Johanne Sørensen received him well, gave him food, hid him in the nearby woods and contacted the resistance movement. Paddy Powers had hidden on the beach about 3 km away. He was found and taken to Reersnæsgård. In farmer´s clothing they rode stealthily to Maribo here, where Dr Hansen hid them for 10 days in his attic till they could go by train to Copenhagen and from there by ship to Malmø. Rear Gunner John Harrison had been rescued by another cell of the underground, and he joined the two others in the attic.
Source: Memories from World War II by James H. Murray sent by his daughter Mary Brown to www.airmen.dk. See also Photos 1 and Photos 2.
On 5 May 2009 TV2 ØST sent Svinø Mindehøjtidelighed Svinø Memorial Service (film, 3:25 min. - parts of it in English, interview with Mary Brown)

James H. Murray and his family visited Denmark in August 1961. He was a military physician for 25 years and became a hospital administrator when he left the military. Mary Brown and her sisters revisited Denmark in May 2009, where they once more met Danes connected with the escape story.

Halifax * Halifax-BC Museum.Canada * Halifax-RAF Museum * Halifax-The Yorkshire Air Museum * Halifax Print and Halifax - Bless 'Em All * 77 Squadron Association
Halifax II LW270 KN-P took off from RAF Elvington at 21.05 hrs on 23 APR 1944. (Source: Aircrew Remembered has this.) Google Map 77 Squadron DK 7 airmen.