Wreathlaying Ceremony on 4 May Photo and text: Niels Nørgaard Nielsen På dansk Updated: 13 APR 2021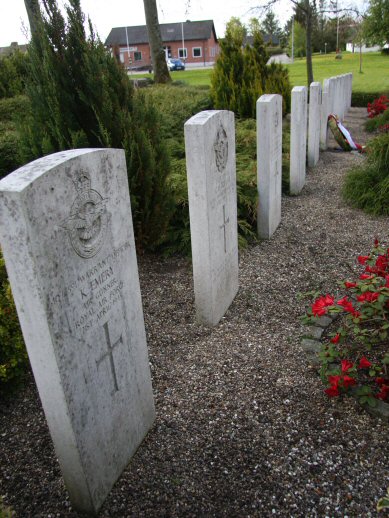 The plot in Aarestrup Churchyard with a wreath See the wreath in 2013.
placed at Guilonard's headstone in 2012.

Written on 22 May 2012:
Today I talked to a member of the parochial church council of Aarestrup Church. He related that
every year on 4 May a ceremony is held in the church on the occasion of the end of WW2 in Denmark, the evening when the Germans surrendered. (Read details)

After this ceremony red, white and blue flowers are placed in the porch at a memorial tablet to
Otto Nielsen who was executed by the Germans in 1944, because he was very active in the resistance movement. He was the son of forest ranger Nielsen. The coffins with the crew of
N/206 were placed at forest ranger Nielsen's in the days between the time when they were found
in the forest and the funeral on 22 June 1947.

Subsequently a memorial ceremony is held at the graves. First a person from Aarestrup selected
by the vicar places a wreath at the plot. Then a short memorial speech is held and a hymn is sung.
A very special hymn which is often used at funerals. (Altid frejdig når du går - Always dauntless
when you tread -). That hymn is also connected to some events during WW2 in Denmark.

After this ceremony a meeting is held in Aarestrup Village Hall. Here we sing a couple of hymns
and have a cup of coffee or tea with some cake and a chat.

The wreath remains at the plot till has withered away.

The ceremony in Aarestrup Church has been held every year since 1945 in the evening of 4 May.
We do not know exactly when the tradition with a subsequent ceremony at the graves started, but
we know with certainty that it has been held every year in the latest 48 years. Most likely the ceremony with wreathlaying and singing of the hymn has taken place every year since 1948.

The plot is kept and paid by Aarestrup Church. The headstones are kept by the Commonwealth
War Graves Commission. The wreath placed at the plot on 4 May is paid by Aarestrup Church.
The plot is protected and is to be maintained in perpetuity. See floral tributes 2020.