TV 2 ØST / TV2 EAST Lancaster X Artikler i Korsør Posten Updated: 16 DEC 2011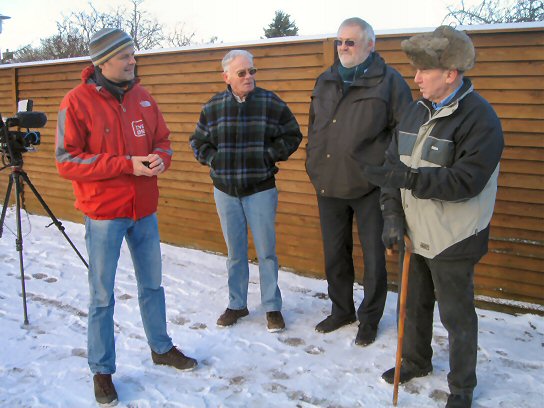 Gåde om fly - måske løst (film 2:52) sendt 03 FEB 2011, se tale,
blev optaget af Peter Kryger fra TV2 ØST / TV2 EAST 26 JAN 2011.

Tidligere har han været på Svinø Kirkegaard den 4. maj 2009.
Her lavede han Svinø mindehøjtidelighed (film 3:25) med fokus
på James H. Murray og hans datter Mary Brown. Murray nåede Sverige!

TV2 ØST sendte Together at last del 1 (film 11:49) og
Together at last del 2 (film 12:12) af Peter Kryger 12.-13.juli 2009
om Donald V. Smith der var Første flyver til Sverige.



Gåde om fly - måske løst Riddle about plane - maybe solved
(film 2:52) sent 03 FEB 2011 was recorded by Peter Kryger,
TV2 ØST / TV2 EAST on 26 JAN 2011. See the speech in English.

Earlier he was in Svinø Churchyard on 4 May 2009.
Svinø mindehøjtidelighed Memorial Service (film 3:25)
has James H. Murray and his daughter Mary Brown in focus.
Murray reached Sweden!

TV2 EAST sent Together at last part 1 (film 11:49) and
Together at last part 2 (film 12:12)
by Peter Kryger on 12-13 July 2009
about Donald V. Smith who was First Airman to Sweden.
There are some sequences in English about Murray and Don Smith.

Peter Kryger Villy Skaarup Kurt Sørensen Kurt Rehder ( Anders Straarup, straarup@linksbuketten.dk, www.airmen.dk )
TV2 ØST / TV2 EAST øjenvidne eye witness By og Overfartsmuseet Korsør Lokalarkiv



Foto fra Revvej 26 JAN 2011 ved TV-optagelsen af Gåde om fly - måske løst om Lancaster X - ikke HAL DT628.


Photo from Revvej on 26 JAN 2011 at the recording of the TV-film Gåde om fly - måske løst about Lancaster X - not HAL DT628.