Skarrild 2011 Updated: 21 MAY 2013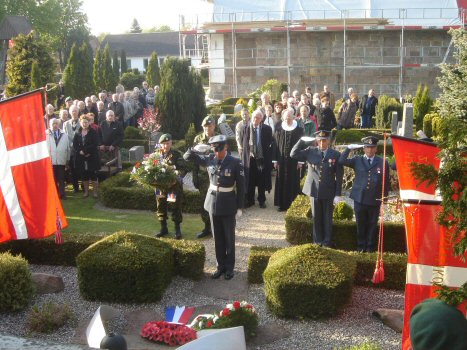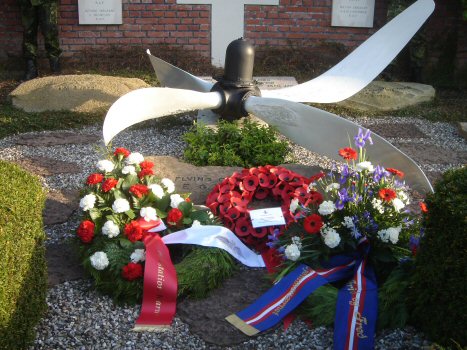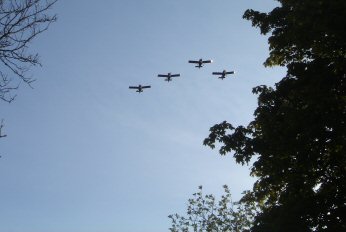 Skarrild Kirkegård den 5. maj 2011 - den årlige kransenedlægning for de 7 flyvere fra LAN ME650.
Et lille udsnit af de mange mennesker, der overværede højtideligheden og senere var sammen i
Skarrild-Karstoft Kultur- og Idrætscenter med pastor Kurt Larsen, tidligere præst i Skarrild,
og tidligere udenrigsminister Niels Helveg Petersen. De ses side om side på øverste venstre foto.
Helicopter Wing Karup, Den Britiske Ambassade og Hjemmeværnet lagde kranse. Vi så også
"The missing man formation" fra Karup - se forklaring ved lignende overflyvning over Svinø.
Se folderen Flyvergraven i Skarrild fra Arne Mosgaard med siderne 2-3-4-5-6-1 klar til udskrift.



Skarrild Churchyard on 5 May 2011 - the annual wreathlaying ceremony to the crew of LAN ME650.
A small part of the many people who attended the ceremony and later went to the big village hall, where
the Reverend Kurt Larsen, former Vicar in Skarrild, and former Minister of Foreign Affairs Niels Helveg Petersen spoke. They are seen side by side at the centre of the photo.
Helicopter Wing Karup, The British Embassy and the Danish Home Guard laid wreaths. We also saw
"The missing man formation" from Karup - see explanation at a similar flypast over Svinø.
See the folder The Skarrild Cross by Arne Mosgaard with the pages 2-3-4-5-6-1 ready to be printed.