Anholt Kirkegård - Cemetery Photo: Helene Hennings Updated: 29 JAN 2018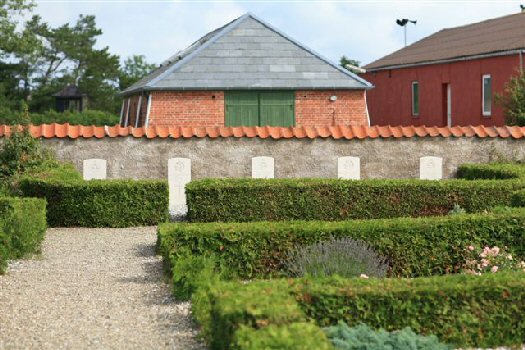 Anholt, 5 flyvere.
Anholt Kirke, Østervej 14, 8592 Anholt i Norddjurs Kommune.

Indgangen er her til kirkegården på Ørkenvej.

Disse grave er her i det nordvestlige hjørne.

Se dette om kirken på nettet.

Bag gravene ses "Det gamle Redningshus", der
tidligere blev brugt til Anholts redningsbåd.
Se Anholtposten side 29 efterår 2014 om flyverne på Anholt.
De 3 flyvere reddet i 1945 må være 3 krigsfanger/POWs fra HAL JP336.



Anholt, 5 airmen.
Anholt Kirke, Østervej 14, DK-8592 Anholt in the Municipality of Norddjurs.
The entrance is here to the cemetery on Ørkenvej.

This plot is here at the north western corner.

Behind the headstones is the old house formerly used for Anholt´s lifeboat.


| | | | | | | | | | | | | | |
| --- | --- | --- | --- | --- | --- | --- | --- | --- | --- | --- | --- | --- | --- |
| Airman | Surname | Init | Rank | Service | Sqdn | P_link | Plane | Operation | Crash_site | Crash_d | Buried_d | C_link | At_Next |
| a002001.htm | Gardiner | LHC | F/O | RCAF | 428 | p364.htm | LAN KB709 | Bomb G | Sea 10 km off Anholt | d300844 | b090944 | c002.htm | Anholt |
| a002002.htm | Gravelet-Chapman | J B | Wt/O | RCAF | 428 | p364.htm | LAN KB709 | Bomb G | Sea 10 km off Anholt | d300844 | b110944 | c002.htm | Anholt |
| a002003.htm | McFarlane | J | Sgt | RAF | 428 | p364.htm | LAN KB709 | Bomb G | Sea 10 km off Anholt | d300844 | b061144 | c002.htm | Anholt |
| a002004.htm | Stratford | R K | F/O | RAF | 460 | p366.htm | LAN NE144 | Bomb G | Sea off Anholt | d300844 | b040944 | c002.htm | Anholt |
| a002005.htm | Emerson | JFW | Sgt | RAF | 106 | p384.htm | LAN ND682 | Minelaying | Kattegat | d161244 | b070345 | c002.htm | Anholt |