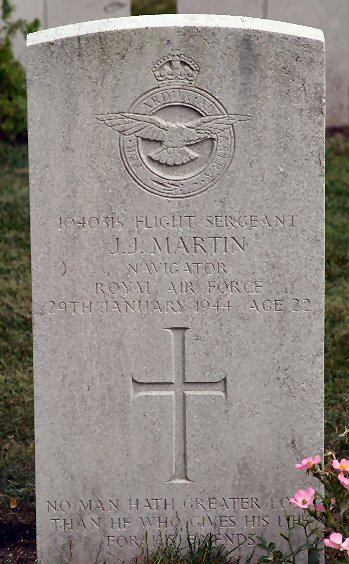 John James Martin Photo: Mogens Jeppesen Updated: 27 DEC 2011

Airman: a113094.htm Surname: Martin Init: J J Rank: F/Sgt Service: RAF Sqdn: 83
P_link: p258.htm Plane: LAN JB412 Operation: Bomb G Crash_site: Near Varnæs
Crash_d: d290144 Buried_d: b020244 C_link: c113.htm At_Next: Aabenraa, R 4-22

"Natten til den 29. januar 1944 var RAF´s bombemål i Tyskland, som så ofte før, Berlin. Ruten både ud
og hjem gik over Danmark. 4 fly nedstyrtede denne nat over Sønderjylland, heraf 2 efter at være stødt
sammen i luften over Als." (FAF) Det var HAL JD273 nær Kliplev, LAN JB412 nær Varnæs samt efter kollision LAN JA967 nær Broballe her og LAN HK537 nær Mjels her.

LAN JB412 styrtede ned spredt over et stort område nordøst for Varnæs med midten her, oversigt her, se også kortet Flystyrt ved Varnæs.
"To besætningsmedlemmer, antagelig T.K. McCash og J.J. Martin sprang ud med faldskærm fra for lav højde og blev dræbt. De blev begravet den 2. februar 1944. J.R. Tree blev fundet druknet ved Sønderborg i juni 1944 (måske omkring her). Begravelsen fandt sted den 22. juni.
Fire besætningsmedlemmer overlevede og blev taget til fange." (FAF)
Flight Engineer (Navigator) John James Martin, 22 år, var søn af Arthur og Emily Laura Madeline Martin, Carnforth, Lancashire, United Kingdom. (Kilde: CWGC)
Se en personlig beretning om dette flystyrt fra Hans Brandt om Bomberen. Dengang en vaks dreng på 11 år, nu aktiv pensionist i Børkop.
3 flyvere fra LAN JB412 blev begravet i Aabenraa og 4 blev ført til Tyske krigsfangelejre. Se Lancaster fotos.
7 flyvere.

"On the night before 29 January, 1944, the target for a RAF bombing raid was, as so often before, Berlin. The route both out and home was over Denmark. 4 planes crashed this night over Southern Jutland, 2 of them after a collision in the air over Als." (FAF) It was HAL JD273 near Kliplev, LAN JB412 near Varnæs and after the collision LAN JA967 near Broballe here and LAN HK537 near Mjels here.
LAN JB412 crashed over a great area north east of Varnæs with the centre here, overview here.
Two crew members, presumably T.K. McCash and J.J. Martin bailed out with their parachutes too near the ground and were killed. They were buried in Aabenraa on 2 February 1944. J.R. Tree was found drowned at Sønderborg (maybe around here) in June 1944. The burial took place on 22 June 1944.
Four crew members survived and became POWs. (Source: FAF)
Flight Engineer (Navigator) John James Martin, 22, was the son of Arthur and Emily Laura Madeline Martin, of Carnforth, Lancashire, United Kingdom. (Source: CWGC)
No man hath greater love than he who gives his life for his friends
3 airmen from LAN JB412 were buried in Aabenraa and 4 were taken to German POW-Camps.
See Bomber Command No. 83 Squadron * No. 83 Squadron RAF * The Wartime Memories Project - No. 83 Squadron.
This Lancaster took off from RAF Wyton. See Lancaster Photos. Lost Bombers has this. 7 airmen.