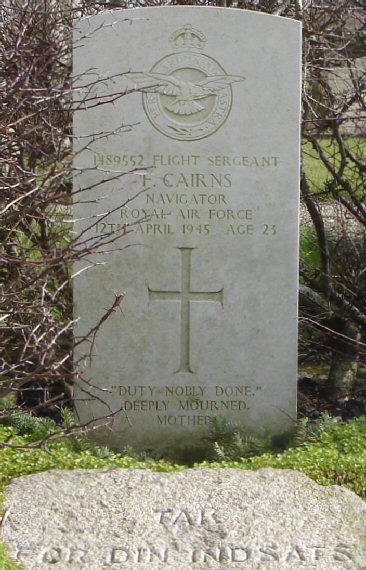 Frank Cairns Updated: 29 AUG 2018
Airman: a027001.htm Surname: Cairns Init: F Rank: F/Sgt Service: RAF Sqdn: 299
P_link: p422r.htm Plane: STI PK229 Operation: Drop in DK Crash_site: The North Sea
Crash_d: d120445 Buried_d: b120645 C_link: c027.htm At_Next: Helligsø

"Natten til den 12. april 1945 skulle et Stirling fly nedkaste våben på en plads ved Holmene vest for Fjerritslev (som er her). Flyet må være styrtet i havet. Alle ombord omkom." (FAF)
"Flyets navigator F. Cairns blev den 9. juni 1945 fundet ilanddrevet på Røjensø Odde, Helligsø Strand, omkring her. Begravelsen fandt sted den 12. juni 1945, hvor sognets folk var mødt så talstærkt op, at Helligsø Kirke slet ikke kunne rumme følget. Pastor K.N. Refshauge talte over den ukendte soldat,
ved hvis kiste folk fra modstandsbevægelsen i Sydthy stod æresvagt." (FAF)
Flight Sergeant (Navigator) Frank Cairns, 23 år, var søn af George Henry og Florence Cairns, Crosby, Liverpool, United Kingdom. (Kilde: CWGC)
Flyets pilot W.R.F. Curry blev begravet den 9. juni 1945 ved Tornby Kirke.
Arne Mosgaard om flyvergrav i Helligsø.
De resterende 4 medlemmer af besætningen har ingen kendt grav.
69 omkomne flyvere ses på Mindetavlen i Rebild og i London, se 69 flyvere - St. Clement Danes.
6 flyvere. Thank you for your contribution

On the night before 12 April, 1945 a Stirling was to drop weapons on a drop zone at Holmene west
of Fjerrritslev (which is here). The plane must have crashed in the sea. All on board perished.
"On 9 June, 1945 Navigator F. Cairns was found washed up on Røjensø Odde, Helligsø Strand, about
here. The funeral took place on 12 June, 1945, when residents of the parish had turned up in such great numbers that Helligsø Church had not at all room for all of the mourners. Vicar K.N. Refshauge made a memorial speech to then unknown airman. Members of the resistance movement in the southern part of Thy were guards of honour at the coffin." (FAF)
Flight Sergeant (Navigator) Frank Cairns, 23, was the son of George Henry and Florence Cairns, of Crosby, Liverpool, United Kingdom. (Source: CWGC)
Pilot W.R.F. Curry was buried at Tornby Church on 9 June, 1945. The remaining 4 members of the crew have no known graves. (Source: FAF)
Arne Mosgaard about this grave in Helligsø. See 69 perished airmen on the Memorial Plaque in Rebild and in London, 69 airmen - St. Clement Danes.
See No. 299 Squadron RAF - Wikipedia and 299 Squadron at Unit Histories. This Stirling took off from RAF Shepherds Grove. 6 airmen.