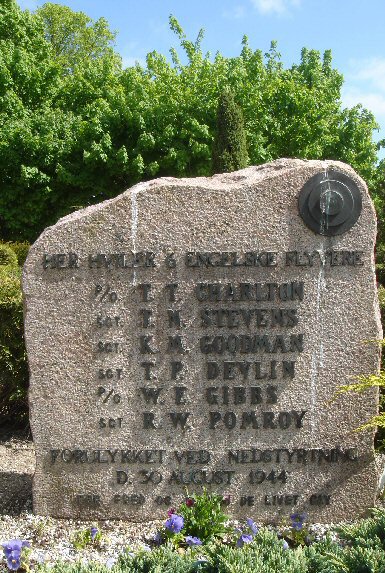 Peter T. Devlin Updated: 14 OCT 2021
Airman: a015002.htm Surname: Devlin Init: P T Rank: Sgt Service: RAF Sqdn: 514
P_link: p365.htm Plane: LAN PB143 Operation: Bomb G Crash_site: At Estruplund
Crash_d: d300844 Buried_d: b170944 C_link: c015.htm At_Next: Estruplund

Den 30. august 1944 styrtede LAN PB143 ned her, overblik her. Dette var 1 af 38 fly tabt
under Operation 30 AUGUST 1944 - se også Mindesten for 6 engelske flyvere og
En beretning fra Estruplund af Kristian Boje Pedersen.
Se Estruplund - flystyrtet, begravelsen og mere og Fotos fra 4. maj 1995 i Estruplund
fra Susanne von Lowzow, Estruplund - Mindegudstjeneste 2014
og artiklen Den britiske bombe i Vorup - og Estruplund (pdf-6 MB) i Randers Amtsavis 30 AUG 2014.
Her hviler 6 engelske flyvere forulykket ved nedstyrtning d. 30. august 1944
For fred og frihed de livet gav.
Sergeant (Air Gunner) Peter T. Devlin var søn af Peter Devlin og stedsøn af Mary Devlin, Carlisle, United Kingdom. (Kilde: CWGC)
6 flyvere fra LAN PB143 begravet i Estruplund, 1 flyver begravet i Frederikshavn. Se Lancaster fotos.

On 30 August 1944 LAN PB143 crashed here, overview here. This was 1 of 38 planes lost on
Operation 30 AUGUST 1944 - see routes and losses. See also A Memorial Stone to 6 British Airmen and An Account from Estruplund by Kristian Boje Pedersen - Photos from 4th May 1995 in Estruplund
and Estruplund - the crash, the burial and more from Susanne von Lowzow, Estruplund.
Memorial Service 2014 The British bomb in Vorup - and Estruplund (pdf-6 MB) by Anders Straarup in Randers Amtsavis on 30 AUG 2014.
Here rest 6 English airmen who died in the air crash on 30 August 1944.
They gave their lives for peace and freedom.

Sergeant (Air Gunner) Peter T. Devlin was the son of Peter Devlin, and the stepson of Mary Devlin,
of Carlisle, United Kingdom. (Source: CWGC)
He is remembered on The Walls of Names at the International Bomber Command Centre, P2, P155.
"Stettin.403 aircraft, 23 lost (5.7%) - a successful raid, - -" the IBCC states at the perished airmen.
6 airmen from LAN PB143 buried in Estruplund, 1 airman buried in Frederikshavn.
This Lancaster - see Lancaster Photos - was from No. 514 Squadron RAF - Wikipedia.
See also 514 Squadron RAF and Waterbeach Military Heritage Museum.
Lancaster III PB143 JI-B took off from RAF Waterbeach at 21:05 on 27 AUG 1944.
(Source: Aircrew Remembered has this.) See p365MACR. 7 airmen.