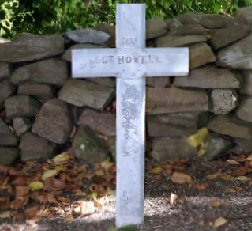 David Howells Updated: 09 JAN 2022
Photo: Hans Andersen
Else Hjort Nielsen
Airman: a012001.htm Surname: Howells Init: D Rank: Sgt Service: RAF Sqdn: 103
P_link: p313.htm Plane: LAN LL963 Operation: Minelaying Crash_site: Off Avernakø
Crash_d: d160544 Buried_d: b260644 C_link: c012.htm At_Next: Drejø

Under en mineudlægningsoperation til Kiel Bugt natten til den 16. maj 1944 blev LAN LL963 ramt af flak og styrtede i
havet ved Avernakø. Hele besætningen omkom. p313MACR. Se om styrtet. Se propel som monument og tak til flyverne.
Se meget mere ved flyverne begravet på Avernakø og Drejø.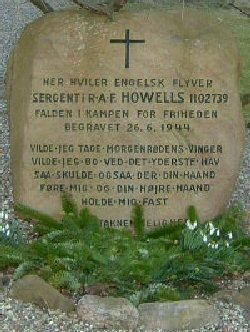 Sergeant (Flight Engineer) David Howells, 29 år, var søn af David og Mary Ellen Howells, Clydach Vale, Glamorgan,
United Kingdom. (Kilde: CWGC)
LAN LL963 styrtede ned her. D. Howells drev ind ved Drejø Skov. (Kilde: FAF) Se mere i folderen nævnt ved Drejø Kirke.

The Commonwealth War Graves Commission satte metalkorset på graven efter krigen. Det er fjernet nu.
Gravstenen rejst i taknemmelighed blev afsløret den 5. maj 1947. Se foto fra 2016 og Besøg 2016.
Inskriptionen fra Salmernes Bog, Kapitel 139, v. 9 og 10 er fra bibelen på dansk oversat i 1871. Samme skriftsted i 1992:
Låner jeg morgenrødens vinger og slår mig ned, hvor havet ender,
så leder din hånd mig også dér, din højre hånd holder mig fast.
1 flyver begravet på Avernakø, 1 på Drejø, 1 i Faaborg, 1 i Aastrup og 3 har ingen kendt grav.
Google Map p313 LAN LL963. Se Minelægningsområder og Lancaster fotos. 7 flyvere.

On its way to a mine laying operation in Kiel Bay on the night before 16 May, 1944, LAN LL963 was hit by flak and
crashed into the sea at Avernakø. All of the crew perished. See about the crash. See propeller as monument and
thanks to the airmen. See much more at the airmen buried on Avernakø and Drejø.

Sergeant (Flight Engineer) David Howells, 29, was the son of David and Mary Ellen Howells, of Clydach Vale, Glamorgan, United Kingdom. (Source: CWGC)
LAN LL963 crashed here. The body of D. Howells drifted in at Drejø Skov. (Source: FAF) See more in the folder from Drejø.
He is remembered on The Walls of Names at the International Bomber Command Centre, Phase 1, Panel 52.
The Commonwealth War Graves Commission placed the metal cross on the grave after the war. The metal cross is not there now.
This gravestone erected by the residents of Drejø was unveiled on 5 May, 1947. See photo from 2016.
Here rests English airman Sergeant in R.A.F. Howells 1102739
fallen in the battle for freedom, buried 26.6 1944

If I were to fly away on the wings of the dawn, and settle down on the other side of the sea,
even there your hand would guide me, your right hand would grab hold of me.
(From Old Testament, Psalms, Chapter 139, 9-10) Erected in gratitude.
See Google Map p313 Lancaster LL963 and Memorial Sail with MHV 817 - 13 MAY 2017. MHV 817 Partisan. Visit 2016 * Monument 2021.
See No. 103 Squadron RAF-Wikipedia*103 Squadron Group Photo* RAF Elsham Wolds Association*Minelaying areas*Lancaster Photos*103 Squadron RAF History.

Lancaster I LL963 PM-D took off from RAF Elsham Wolds at 22:13 hrs on 15 MAY 1944. (Source: Aircrew Remembered has this.) p313MACR
See photos from Elsham Wolds August 2018 by Elisabeth Olsen. 7 airmen.