Lancaster I LL963 - Off Avernakø - Monument Updated: 09 JAN 2022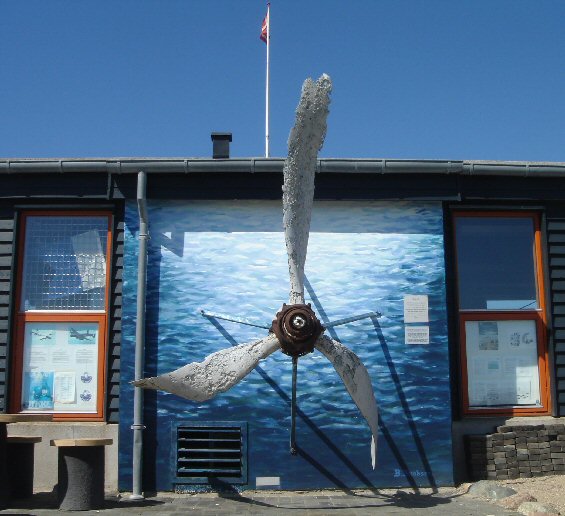 Propel fra en Lancaster fundet her af fisker Sten Christensen,
Horne den 11. april 2000.
Efter undersøgelser på Flyvestation Aalborg er der med stor
sikkerhed tale om LAN LL963. Se mere om fly og flyvere.
Denne propel er den 26. december 2000 overdraget
Assens Dykkerklub af Dansk Sportsdykker Forbund.
Den er placeret her på Assens Marina nær Næsvej 20,
5610 Assens sammen med informationstavler.
Se denne tekst med tak til de 7 flyvere og Besøg 2016.
Se også Monument 2021.
Mindesmærket blev afsløret 16. maj 2004, se mere.

Propeller from a Lancaster found here by fisherman
Sten Christensen, Horne on 11 April, 2000.
After examinations on Aalborg Air Base the propeller is
with great certainty from LAN LL963.
Read more about plane and airmen.

On 26 December, 2000, this propeller was transferred to
Assens Diving Club by The Danish Association of Sports Divers.
It is placed here on Assens Marina near Næsvej 20,
5610 Assens with information tables, unveiled 2004.
See this text with thanks to the 7 airmen and Visit 2016.
See also Monument 2021.
This memorial was unveiled on 16 May 2004, see more.