Melvin F. Callaway Photo: AS 05 MAY 2016 Updated: 30 AUG 2016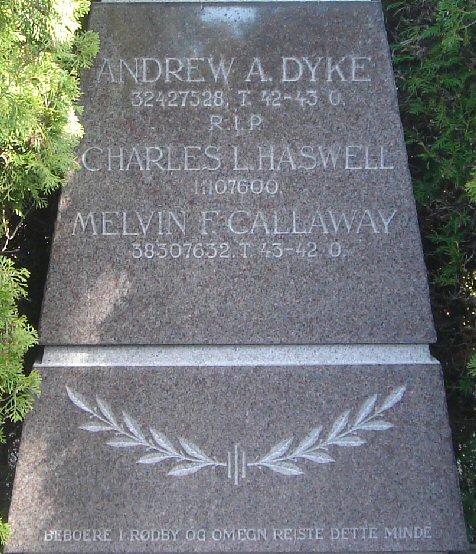 Airman: u079003.htm Surname: Callaway Init: M F Rank: S/Sgt Service: USAAF Sqdn: 366 P_link: p336.htm Plane: B17 42107105 Operation: Bomb G Crash_site: Sea S of Lolland Crash_d: d040844 Buried_d: b240844 C_link: c079.htm At_Next: Rødby

Den 4. august 1944 kl. 15.50 styrtede B17 107105 i Østersøen syd for Gedser (måske omkring her) på hjemvejen fra et bombetogt til Anklam (her) (Kilde: MACR)
Staff Sergeant Melvin F. Callaway var Ball Turret Gunner på B17 107105. (Kilde: MACR) Den 23. august 1944 blev han fundet i Femern Bælt (omkring her) af fisker Ejner Larsen. Han blev begravet på Rødby Kirkegård den 24. august 1944 af sognepræst Roed Jensen. (Kilde:FAF)
"Gravsten med navnene på 3 amerikanske flyvere, hvoraf de 2 blev hjemført i 1948. Charles L. Haswell, begravet 22.7.1944, er dermed den eneste af flyverne, der fortsat er begravet på stedet.
Gravstenen er rejst af De Danske Forsvarsbrødre, Rødby afd., 15.6.1945." (KM)
Efter krigen blev han og andre Amerikanske flyvere flyttet til Ardennes American Cemetery i Belgien. (Kilde: FAF) Hans navn er ikke i registret hos ABMC, så mest sandsynligt blev han begravet på en privat kirkegård i USA.

4 flyvere fra B17 107105 blev begravet på Svinø Kirkegård og 1 i Rødby.
2 er begravet i USA og 1 har ingen kendt grav. 1 flyver blev krigsfange. 9 flyvere.



On 4 August 1944 at 1550 hours B17 107105 crashed into the Baltic Sea south of Gedser (maybe about here) on the return flight of a bombing raid on Anklam (here). (Source: MACR)
Staff Sergeant Melvin F. Callaway was the Ball Turret Gunner of B17 107105. (Source: MACR)
He was found in the Fehmarn Belt (about here) by fisherman Ejner Larsen on 23 August 1944.
On 24 August 1944 he was buried in Rødby Churchyard by vicar Roed Jensen. (Source: FAF)
"Gravestone with names of 3 American airmen. 2 of them were taken home in 1948.
Charles Haswell, buried 22.7. 1944, is the only of the airmen, who still rests here.
The gravestone is erected by The Danish Defence Brothers, Rødby branch, 15.6. 1945." (KM)
Like nearly all other American airmen buried in Denmark he was taken to Ardennes American Cemetery.
His name is not in the ABMC records, so most likely he was buried in a private cemetery in the U.S.A.
See Drawing of the crew of a B-17 * Photo of a B-17 + B-17s in airmen.dk * B-17 Ball Turret, Ammunition and the story of a Ball Turret Gunner.
This B-17 was from 366th Bomb Squadron, 305th Bomb Group, 40 Combat Bombardment Wing, 1st Bombardment Division of the 8 AF, USAAF.
See also 305th Bomb Group. It took off from RAF Chelveston - USAAF Station 105. 9 airmen.