Halifax III MZ915 + Halifax VII NP719 - At Nørreskoven, Als - Monument Monuments 16 SEP 2019 Updated: 14 OCT 2019
Photo, propeller: Hans Andersen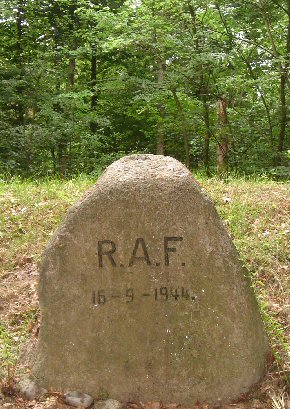 Propelblad oprindeligt rejst på højen her hvor nogle ligdele af flyverne fra HAL NP719 og HAL MZ915 blev begravet af danske.
Med filer fra Gunnar Hounsgaard til seniorsergent L.Larsen, PISEK, Hærens Sergentskole, har forsvaret lavet hele informationstavlen sat op ved højen. Zoom.
Propelbladet har inskriptionen Her hviler allierede flyvere 15.9 1944. Hvil i fred. Nu er propelbladet på Sønderborg Slot, afløst på højen af denne mindesten.
Hent folderen (klik) Nørreskoven på Als pdf fra Naturstyrelsen. Find 7 Englændergraven. HAL MZ915+Mon og HAL NP719+Mon og Monumenter 16 SEP 2019
Se også Artikel: Clive, John og James i JV.



Propeller blade originally erected at the hillock here where some parts of bodies of airmen from HAL NP719 and HAL MZ915 were buried by Danes.
With files from Gunnar Hounsgaard to SSG L.Larsen, PISEK, the Army NCO School, the defence has made the complete information table placed at the hillock. Zoom.
The propeller blade has the inscription Here rest allied airmen 15.9 1944. Rest in Peace.
Now the propeller blade is at Sønderborg Slot, replaced on the hillock by this memorial stone.
Get the folder Nørreskoven på Als (pdf) from the Danish Nature Agency. Find 7 Englændergraven.
HAL MZ915+Mon and HAL NP719+Mon and Monuments 16 SEP 2019. Article in Danish with photos in JV + Translation by AS.