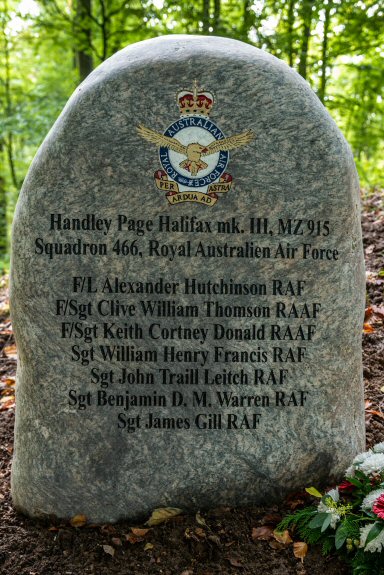 "Natten til den 16. september 1944 rettede RAF et angreb mod Kiel. I forbindelse med dette bombetogt stødte 2 "Halifax" fly sammen i luften over Als kl. 01.05. Flyene nedstyrtede nord-øst for Elstrup, hvor stumperne spredtes over et mange kvadratkilometer stort område. Samtlige 14 ombordværende flyvere blev dræbt.
Se p374MACR og Artikel: Clive, John og James i JV.
HAL NP719 styrtede ned omkring her - se kort og HAL MZ915 styrtede ned omkring her - se kort.
Områder, ikke punkter!
Hent folderen (klik) Nørreskoven på Als (pdf) fra Naturstyrelsen. Find 7 Englændergraven - prikken
til venstre for E i Englændergraven. Se fotos og hvordan du finder stedet.

"The RAF attacked Kiel on the night before September 16 1944. In connection with this bombing raid 2 Halifax-planes collided in the air over Als at 0105 hrs. The planes crashed north east of Elstrup, where fragments were scattered over an area of many square kilometres. All 14 crew members on board perished. See p374MACR and Article in Danish with photos in JV + Translation by AS.
HAL NP719 crashed about here and HAL MZ915 crashed about here. Areas, not points!
Get the folder Nørreskoven på Als (pdf) from the Danish Nature Agency. Find 7 Englændergraven -
the dot to the left of E in Englændergraven. See photos and how you find the memorial stones.
Handley Page Halifax
No. 466 Squadron RAAF
Flight Lieutenant A. Hutchison

Flight Sergeant C. W. Thomson
Flight Sergeant K. C. Donald
Sergeant W. H. Francis

Sergeant J. T. Leitch
Sergeant B. D. M. Warren
Sergeant J. Gill