Gamtofte 16 May 2004 Photos from Elisabeth Ege Olsen Updated: 11 MAY 2009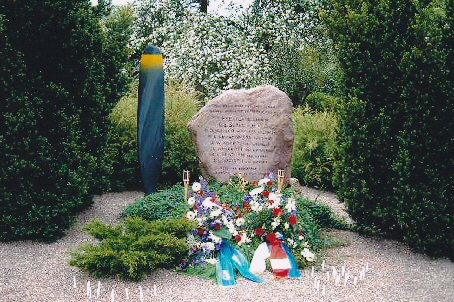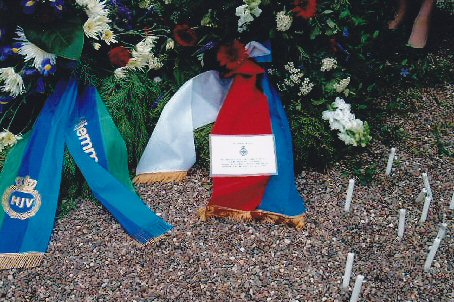 Efter mindegudstjenesten i Gamtofte Kirke den 16. maj 2004 - 60 år efter at LAN ME726 styrtede ned Hjemmeværnet og Royal Air Force kranse
ved mindestenen for de 7 flyvere.
Til stede var slægtninge til F/Lt Ernest J. Presland, F/Sgt Benjamin J. Hudson og Sgt Arthur G. Wright. I 2005 kom familie til F/O Mark L. Abramson.
Besøget var tilrettelagt af organist Elisabeth Ege Olsen i samarbejde med pastor Keld Schelander og en lang række andre personer, foreninger og myndigheder.
Se Besøget 2004 * Doris Hendrick * Faldne engelske flyvere mindes * Assens i engelsk avis * Propellen fra LAN LL963 * Besøg fra Canada 2005

The Royal Air Force and the Danish Home Guard laid wreaths at the memorial to the 7 airmen from LAN ME726 after the memorial service in Gamtofte Kirke
commemorating the 60th anniversary of the crash.
Relatives of F/Lt Ernest J. Presland, F/Sgt Benjamin J. Hudson and Sgt Arthur G. Wright were present. In 2005 relatives of F/O Mark L. Abramson visited Gamtofte.
The visit was planned by Organist Elisabeth Ege Olsen in cooperation with Vicar Keld Schelander and a great number of persons, associations and authorities.
See The visit 2004 * Doris Hendrick * Programme * After 60 years families visit aircrew´s graves * The propeller from LAN LL963 * A visit from Canada 2005.