Besøget 2004 - The visit 2004 Photos: Elisabeth Ege Olsen Updated: 30 APR 2009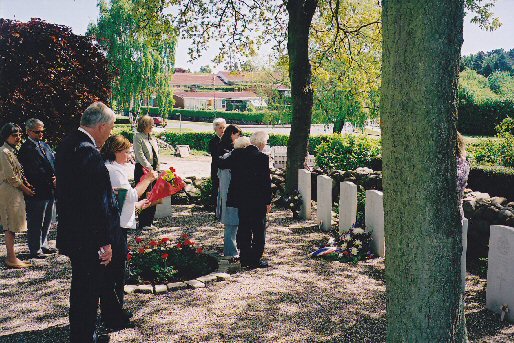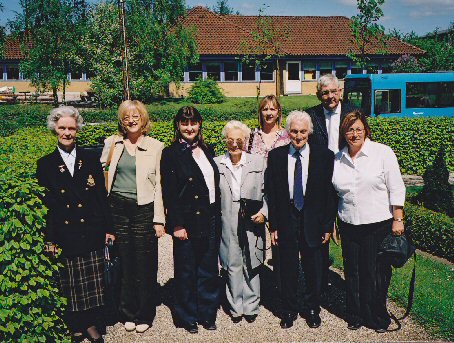 Familiemedlemmer til F/Lt Ernest J. Presland, F/Sgt Benjamin J. Hudson og Sgt Arthur G. Wright fra flyet LAN ME726 besøger flyvernes grave på Assens Kirkegård.
Doris Hendrick mistede sin mand ved flystyrtet. I gruppen havde nogle oplevet krigen sammen med flyverne, som for andre var i forældrenes eller bedsteforældrenes
generation. Det var en oplevelse for alle at møde hinanden, så der var livlig samtale mellem gæsterne, fortæller Elisabeth Ege Olsen. De havde også en fin kontakt med
danskere under hele besøget. Se Faldne engelske flyvere mindes og Assens i engelsk avis fra Fyens Stiftstidende. Starten var Den nat himlen faldt ned.
Gruppen deltog senere, da Propellen fra LAN LL963 blev afsløret, og i en mindehøjtidelighed i Gamtofte 16. maj 2004.
I 2005 kom slægtninge af F/O Mark L. Abramson på Besøg fra Canada.

Relatives of F/Lt Ernest J. Presland, F/Sgt Benjamin J. Hudson and Sgt Arthur G. Wright from the plane LAN ME726 visit the airmen´s graves in
Assens Cemetery.
Doris Hendrick lost her husband in the air crash. Some people in the group had experienced the war together with the airmen. To other visitors the airmen were in the
generation of their parents or grandparents. It was an experience to meet the others, so there was a lively conversation between the visitors, Elisabeth Ege Olsen tells.
They also had good contact with Danes during all of the visit. See Programme and After 60 years families visit aircrew´s graves.
It all started with Danes seek to honour relatives of war crash RAF crew by Julian Isherwood in The Daily Telegraph.
Later the group was present when The propeller from LAN LL963 was unveiled. The relatives also attended the memorial service in Gamtofte 16 May 2004.
In 2005 relatives of F/O Mark L. Abramson paid A visit from Canada. See See Holzman family makes connection with history from Ottawa Jewish Bulletin.