Lancaster I ME726 - Gamtofte - Monument Updated: 22 AUG 2009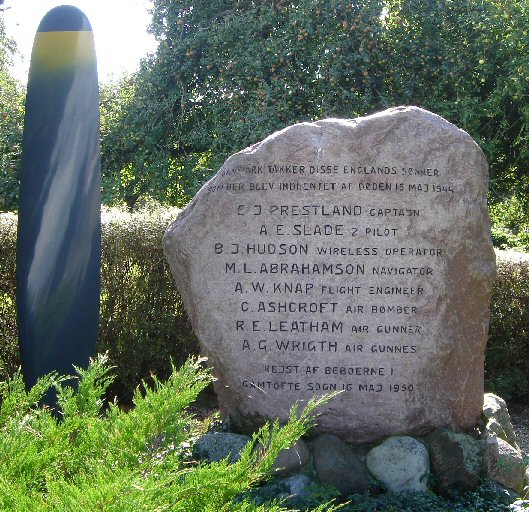 Monument for besætningen på LAN ME726 rejst her
i Gamtofte ved nedstyrtningsstedet, der var her bag mindestenen
mellem pæstegården og den lille dam.
Det er ved Gamtofte Kirke, Brahesborgvej 49, 5610 Assens.
Se Højtidelig indvielse af flyvermindesmærket i Gamtofte 1950.
Se kranse nedlagt i Gamtofte 16. maj 2004.

Se foto af kirken i Kirker i Danmark - en billeddatabase.
Klik på billedet for at få det i stor udgave.



Monument to the crew of LAN ME726 erected here
in Gamtofte at the crash site, which was here behind the
memorial between the vicarage and the little pond.
It is at Gamtofte Kirke, Brahesborgvej 49, 5610 Assens.
Beautiful dedication of memorial to airmen in Gamtofte.
See wreaths laid in Gamtofte 16 May 2004.

"Denmark thanks these sons of England,
who were overtaken by death here
16 May 1944.
-
Erected by the residents of the Parish of Gamtofte
16 May 1950"
See photo of the church in
"Churches in Denmark - a Picture Database".
Click on the photo to enlarge it.