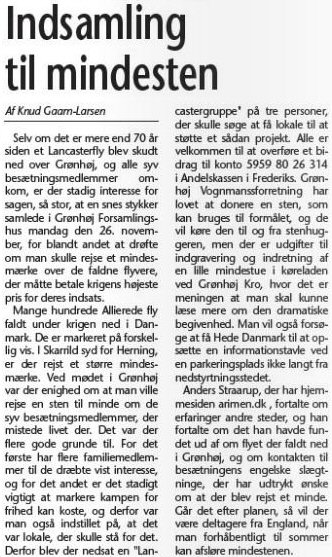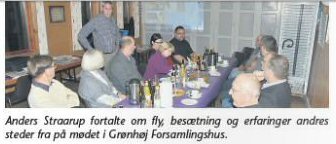 UGE-AVISEN KARUP uge 49, 2012.
Se tidligere artikler.

UGE-AVISEN KARUP 5 December 2012.
See earlier articles.
Caption: Anders Straarup told about planes,
crews and experiences from elsewhere at the meeting in the Grønhøj Village Hall.
Public subscription for a memorial stone By Knud Gaarn-Larsen (adapted by AS)

Even if it is more than 70 years ago since a Lancaster aircraft was shot down over Grønhøj and all 7 crew
members perished it is still of so much interest that about 20 people met in the Grønhøj Village Hall on
26 November 2012. One of the topics was to discuss whether to erect a memorial to the fallen airmen.
They had paid the ultimate price for their war effort.
Hundreds of Allied planes fell down in Denmark during the war. They are marked in various ways. A big memorial was erected in Skarrild south of Herning. At the meeting in Grønhøj people agreed to erect a
memorial stone in memory of the 7 airmen who lost their lives there. A number of relatives of the killed
airmen have shown their interest. 3 members of a Danish Lancaster Team work to make residents of the
area support the project. Anybody is welcome to transfer an amount to account 59598026214 in the
Andelskassen i Frederiks. (From abroad, see details.)
A suitable stone has been donated by Grønhøj Transport together with the transport to and from the monumental mason. Carving an inscription and establishing a small Memorial Room at Grønhøj Kro
means some costs. It is intended that people should be able to read more about the dramatic event.
Attempts are made to make HedeDanmark place an information board at a parking place not far from
the crash site.
Anders Straarup, www.airmen.dk , told about experiences from other places, and he related what he had
found out about the plane that crashed near Grønhøj and about contact to the British relatives of airmen who have expressed their wish to have a memorial erected. If events develop according to plans there will
be attendants from Great Britain when the memorial stone will be unveiled next summer, hopefully.