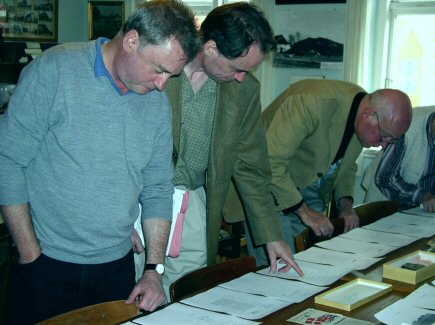 Den 2. maj 1942 styrtede MAN L7399 ned ved Lilholt vest for Haderslev (her).
Se foto fra nedstyrtningsstedet * Manchester I L7399 skudt ned
En begravelse * Manchester I L7399 - visit 2007 * Monument.

Brødrene Stoneman studerer billeder og dokumenter på arkivet i Vojens.
Jes Ratzer sendte mange filer til www.airmen.dk. Fra hans brev:
"En anden ting er et besøg i 2007 fra England af brødrene Geoffrey, Robert og John Stoneman. Deres moder var forlovet med piloten Young, men da han jo døde i styrtet,
blev hun gift med en anden pilot (Stoneman). Han fløj også togter ind over Tyskland.
Han overlevede, og de fik de omtalte tre sønner som besøgte os i 2007.

John fortalte, at da deres far lå for døden, fik de først historien at vide om deres mors forlovelse med Young. Det kom som en absolut overraskelse for dem, så derfor under-
søgte de straks hvor han var faldet ned, og et besøg kom i stand i Vojens på vores arkiv.

Vi havde da forinden i samarbejde med personalet på Flyvestation Skrydstrup spurgt,
om vi måtte prøve at søge med en metaldetektor for evt. at kunne finde nogle stumper
fra flyet. Det lykkedes fint, vi fandt flere stumper, som englænderne fik med hjem, og
som de blev meget glade for." Se Doris Hendrick som kun fik to dage med sin mand
efter deres bryllup og Kvinder, også Phyllis White.

On 2 May 1942 MAN L7399 crashed near Lilholt west of Haderslev (here).
See photo from the crash site * Manchester I L7399 shot down * A burial * visit 2007 * Monument.

The Stoneman brothers studying photos and documents at the archive of local history in Vojens.

Jes Ratzer sent many files to www.airmen.dk. From his letter:
"Another thing is a visit in 2007 from England by the brothers Geoffrey, Robert, and John Stoneman. Their mother was engaged to the pilot Young, but as he died
in the air crash she married another pilot (Stoneman). He also flew on sorties over Germany. He survived and they had the 3 sons who visited us in 2007.

John related that they were not told about their mother's engagement to Young until their father was dying. It was a total surprise to them, so they immediately investigated where he had crashed and a visit was arranged by our archive in Vojens.

Prior to that and in cooperation with the staff of Flyvestation Skrydstrup we had asked for permission to try to find pieces of wreckage with a metal detector.
In a successful search we found a number of parts which the Englishmen were very glad to bring home."

See the story of Doris Hendrick who had only 48 hours with her husband after their wedding, and other remarkable Women including Phyllis White.