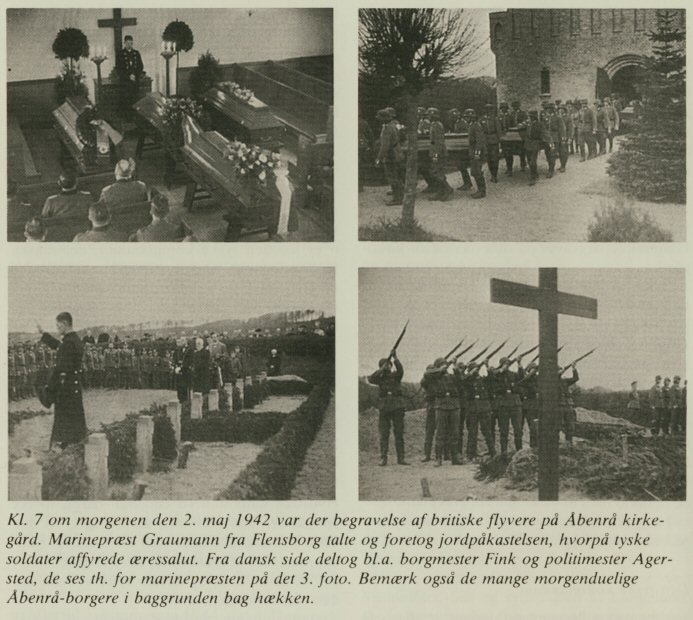 En begravelse
A burial
Photo from Jes Ratzer, vojens-arkiv
Updated: 25 DEC 2018



Den 2. maj 1942 styrtede MAN L7399 ned ved Lilholt V for Haderslev (her). Monument.
Samme dag blev disse 4 flyvere fra
WEL X3716 begravet på Aabenraa Kirkegård,
hvor 5 flyvere fra MAN L7399 blev begravet
den 6. maj 1942 kl. 06.30 sammen med
6 flyvere fra WEL X3633. Se foto fra 1944.

Om AirmenDK har mere om den tyske
holdning til begravelser under krigen.



On 2 May 1942 MAN L7399 crashed near Lilholt west of Haderslev (here). Monument.
On the same day these 4 airmen from
WEL X3716 were buried in Aabenraa
where 5 airmen from MAN L7399 were buried
on 6 May 1942 at 06.30 hrs together with
6 airmen from WEL X3633. See 1944-photo.

"At 7 o'clock in the morning of 2 May 1942
British airmen were buried in Aabenraa Cemetery. (See photo from 1944)
Navy Chaplain Graumann from Flensburg
spoke and officiated at the graveside ceremony and then German soldiers fired a salute of honour. From the Danish side Mayor Fink and Chief Constable Agersted and others attended the burial. They are seen to the right of the
Navy Chaplain in the third photo.
Notice also the many early risers in the background behind the hedge."
About AirmenDK has more about
the German attitude to burials during the war.