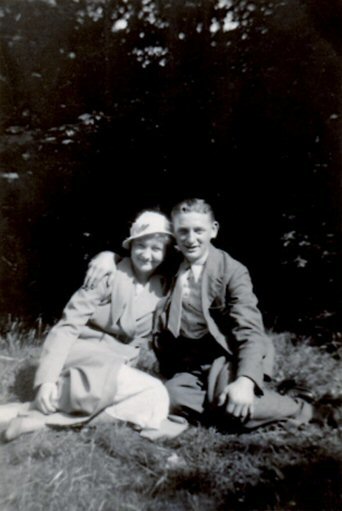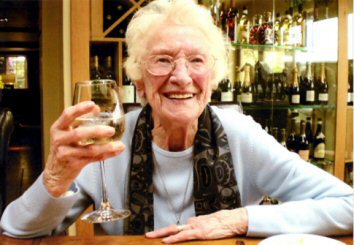 Sergeant William White was the
Wireless Operator / Air Gunner of
Hudson AM523 that crashed at
Faartoft where a Monument was erected
to all of the crew.
Margaret Balsom and Susan Nicolas
visited this part of Denmark in June 2012
to trace their uncle, Pilot S. A. Symons.






See Morbror faldt ved Fårtoft = "Uncle fell at Faartoft" by Villy Dall in Thisted Dagblad
23 June 2012 nearly like
Britisk flyvers niecer fandt mindesten i Thy = Nieces of British airman found memorial in Thy
article in Thisted Dagblad on 22 June 2012. They found the memorial to him and the other crew members.
Fortunately they were able to contact the wife of one of them. On 20 August 2012 Margaret Balsom wrote,
"Susan and I were taken out to lunch last week by Phyl, William White's wife. I have attached a photo of
her saying " cheers " to you and thanking you for all the care given to her beloved Bill by you and the
Danish people. She is a magnificent 94 year old lady ( not 95 until February 2013 ! ) with a perfect
memory of the 1940s.

Here are some more personal details:

William White 995408 Wireless Operator and Gunner. Born to Robert and Mary White on 23.07.1915
in Orrell, Lancashire. Attended Upholland Grammar School, Orrell where he met Phyl, so they were
childhood sweethearts. Enthusiastic sportsman.


I have attached a photo of Bill and Phyl together in 1940, they were married in February 1941. Unfortunately, she does not have one of him in uniform.
Phyl remembers the
Polish
pilots at
Thornaby base
as being totally fearless. They had long hair, unlike the British with their military cuts, and they wore hairnets
at night !!
Do you have any information on Alan Hendy, who Phyl knew, or W. Wright who she did not know?" (Not more than from the CWGC. AS.)
On 22 NOV 2015 Margaret Balsom added:
Dear Anders, We felt that you would be interested that Phyllis White (later Kidger) the widow of William (Bill) White who was shot down with my uncle
Stephen Symons
in
Hudson AM523
has died nearly 98. She survived Bill by 74 years and 3 days. What a long time!
She was so thrilled that you took such an interest in her beloved husband and the rest of the crew. I am still amazed at the wonderful work you do to ensure that the memories live on. Sincerely, Margaret Balsom.
Then I drew her attention to other
Women
who had lost their loved ones. Margaret's answer:
Dear Anders, Thank you for all your fascinating links. The men they commemorate are like one big family. Yes, Phyllis did remarry some years later. Her new husband Roger Kidger was also in the RAF and they had a son and a daughter, Dr Tim Kidger a retired Consultant and Patricia (Trish) Cann - formerly Kidger of course.
They knew nothing of their Mother's first marriage until they were adult!! Keep up your good work, Yours .... Margaret
A part of my response: You may go directly to
Manchester I L7399 - visit 2007
. - - - And with permission from Tim and Trish I added their details to AirmenDK.