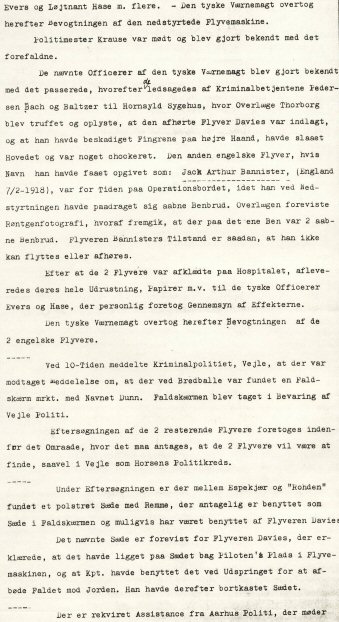 Se Google Map p047 Hampden AE300.

See Google Map p047 Hampden AE300.

Evers, Lieutenant Hase and others arrived. - Then the Wehrmacht took over guarding the crashed aircraft.

Chief Constable Krause had arrived and was informed about the events.
The said officers of the Wehrmacht were informed about what had happened. Then they were accompanied
by the constables of CID Pedersen Bach and Baltzer to Hornsyld Hospital. Consultant Thorborg informed
them that airman Davies was hospitalized. He had injured the fingers of his right hand and had knocked
his head against something. He was rather shocked.
The other English airman listed as Jack Arthur Bannister (England 7/2 1918) was on the operation table, as
he had open fractures of his legs. The consultant produced X-ray photos that showed 2 open fractures of
one of his legs. Airman Bannister's condition does not make it possible to move or interrogate him.

When the 2 airmen had been undressed at the hospital all of their equipment, papers and other matters
were handed over to the German officers Evers and Hase who carried out an inspection of the items.
Then the Wehrmacht took over the guarding of the 2 English airmen.
At about 10 a.m. the Criminal Investigation Department in Vejle announced that they had been informed
that a parachute had been found at Bredballe marked with the name Dunn. The parachute was kept by the Police in Vejle. The search for the 2 remaining airmen was carried out in the area where the 2 airmen could
possibly be found in Vejle and Horsens police districts.
During the search a seat with a cushion and straps has been found between Espekjśr and "Rohden".
It may have been used as a seat in the parachute and it might have been used by airman Davies.

The said seat has been shown to airman Davies who stated that it had been on the seat behind the pilot's place in the aircraft. Davies had used it when he bailed out to cushion his fall against the ground. After that
he threw the seat away.
Assistance from the police in Aarhus has been commissioned.