Politirapport - Police Report 1 2 3 4 Via Kristian Zouaoui Updated: 17 FEB 2012 Omkring Philson - Around Philson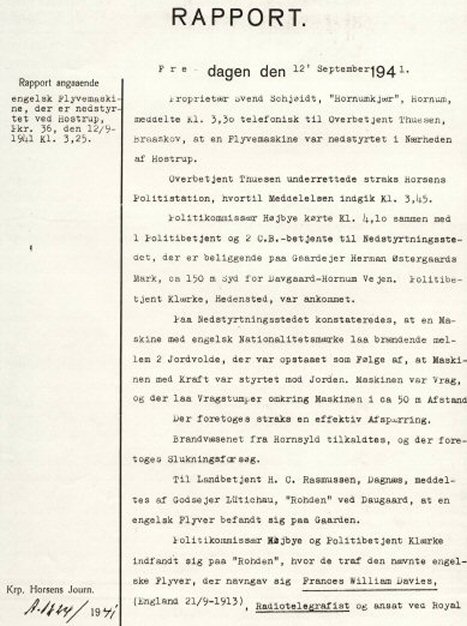 Se Google Map p047 Hampden AE300.

See Google Map p047 Hampden AE300.

The Criminal Investigation Department, Horsens
Report Friday 12 September 1941 concerning an English aircraft crashed near
Hostrup on 12 September 1941 at 03.25 hours. (Translated by Anders Straarup)

At 03.30 farmer Svend Schjødt, "Hornumkjær", Hornum by telephone informed Police Sergeant Thomsen, Braaskov that an aircraft had crashed near Hostrup. Immediately Police Sergeant Thomsen informed the Horsens Police Station. The message was noted at 03.45.

At 4.10 Police Superintendant Højbye, a Police Constable and 2 Auxiliary Constables drove to the crash site situated in farmer Herman Østergaard's field about 150 m
south of the road Davgaard-Hornum. Police Constable Klærke, Hedensted, had
arrived.

At the crash site an aircraft with an RAF roundel was found burning between two
banks of earth made by the powerful impact of the crashing aircraft. It was a wreck
and pieces of wreckage were lying around the aircraft at a distance of up to about
50 metres.

Immediately the area was sealed off. The fire brigade from Hornsyld was called and attempts to extinguish the fire were made.

Landowner Lütichau, "Rohden" near Daugaard informed Constable H.C. Rasmussen, Dagnæs that an English airman was on his farm.
Police Superintendant Højbye and Constable Klærke went to "Rohden" and met the English airman who stated he was Frances William Davies, (England 21/9 1913) Wireless Operator