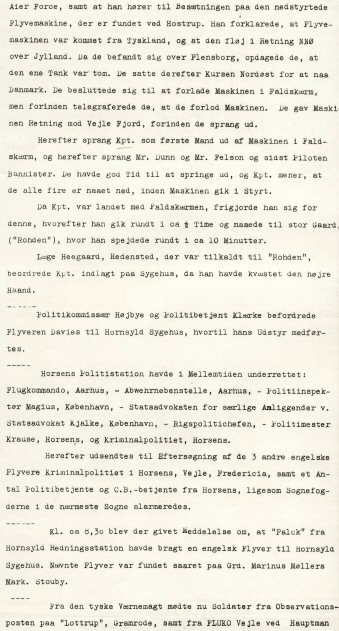 Se Google Map p047 Hampden AE300.

See Google Map p047 Hampden AE300.

from the Royal Air Force and that he belonged to the crew of the crashed aircraft which was found near Hostrup. He explained that the aircraft had come from Germany and that it was flying in the direction north north east over Jutland. When they were flying over Flensburg they discovered that one of the tanks was empty. Then they headed north east to reach Denmark. They decided to bail out, but before that they telegraphed that they were about to abandon the aircraft. They directed the aircraft towards the Vejle Fjord before they bailed out.
Then Davies was the first man to bail out followed by Mr. Dunn and Mr. Felson and finally the Pilot
Bannister. They took their time to bail out and Davies thinks that all four of them came down before the
aircraft crashed.

When Davies had landed with his parachute he freed himself of it and walked about for approximately half
an hour. He came to the big farm ("Rohden") and observed it for about 10 minutes.
Doctor Heegaard, Hedensted, who had been called to "Rohden", ordered that Davies should be taken to a hospital, as he had injured his right hand.

Police Superintendant Højbye and Police Constable Klærke took Airman Davies to Hornsyld Hospital with
his equipment.
In the meantime Horsens Police Station had informed:
Flugkommando, Aarhus, - Abwehrnebenstelle, Aarhus, - Police Chief Superintendant Magius, Copenhagen, -
Public Prosecutor Kjalke, Copenhagen, - the Commissioner of Police, - Chief Constable Krause, Horsens
and the Criminal Investigation Department, Horsens.

Criminal Police from Horsens, Vejle and Fredericia and a number of policemen and auxiliary police
constables were sent out to search for the 3 other English airmen. Also the bailiffs of the parishes in the area were alarmed.
At app. 08.30 it was reported that "Falck" from Hornsyld had taken an English airman to Hornsyld Hospital. He had been found injured in farmer Marinus Møller's field, Stouby.

Now soldiers of the German Wehrmacht from the observation station "Lottrup", Gramrode and from FLUKO Vejle with Hauptman