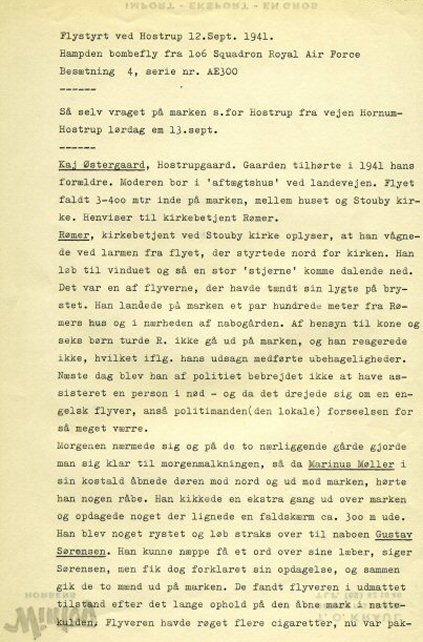 Skrevet af Ole Kraul i 1981 eller senere.
Google Map p047 Hampden AE300

Written by Ole Kraul in 1981 or later. Google Map p047 Hampden AE300
Air Crash near Hostrup on 12 September 1941
Hampden bomber from No. 106 Squadron of the Royal Air Force.
Crew of 4, serial number AE300. (See HAM AE300)

On Saturday 13 September I saw the wreck myself in the field south of Hostrup from the road Hornum-Hostrup.

Kaj Østergaard, Hostrupgaard. In 1941 the farm belonged to his parents. His mother lives as
a pensioner in a house at the road. The plane fell into the field 300-400 metres off the road
between the house and Stouby Church. Refers to verger Rømer.
Rømer, the verger of Stouby Church, states that he was waked up by the noise from the
plane that crashed north of the church. Han ran to the window and saw a big "star" falling
down. It was one of the airmen who had turned on his torch on his chest. He landed in the
field about 200 metres from Rømer's house and near the neighbouring farm. For the sake
of his wife and 6 children Rømer did not dare to go into the field and he did not react.

According to his statement this caused trouble. The next day the police reproached him for
not assisting a person in distress - and as this concerned an English airman the offence
was all the worse according to the local policeman.
At the break of dawn people in the two neighbouring farms were getting ready to milk the
cows. When Marinus Møller, in his cowshed, opened the door to the north facing the field
he heard somebody shout. He took another look into the field and discovered something that looked like a parachute about 300 metres away. He was rather shocked and immediately he
ran to his neighbour Gustav Sørensen. He could hardly get a word over his lips, Sørensen states, but he managed to explain his discovery and the two men walked into the field
together.

They found the airman very exhausted after the long stay in the open field in the
cold night. The airman had smoked a number of cigarettes. (Pilot, Sergeant J. Bannister)