Sydney W. Cooper Updated: 07 JAN 2022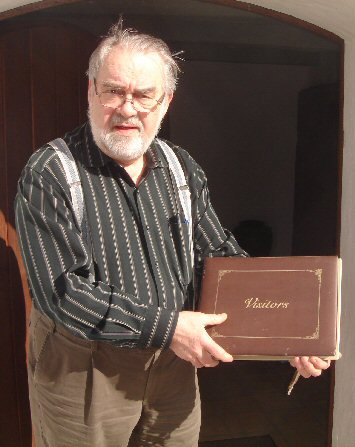 Airman: o888033.htm Surname: Cooper Init: S W Rank: F/Sgt Service: RAAF Sqdn: 460
P_link: p286.htm Plane: LAN JB600 Operation: Minelaying Crash_site: Near Torrild
Crash_d: d100444 Buried_d: o888 C_link: o888.htm At_Next: POW

Avisklip 1964, fra KPM, Torrild: Natten mellem 9. og 10. april 1944 styrtede en engelsk bomber
af typen Lancaster ned på gårdejer Frederik Villefrances mark ved Torrild vest for Odder. Seks mand omkom. En syvende, australieren Syd Cooper, slap levende fra styrtet. Frederik Villefrance og hans
hustru gav ham mad, sørgede for en læge og fik ham kørt i skjul, før tyskerne kom. Se p286MACR.

Nu - 20 år senere - er Syd Cooper på ferie i Danmark. Naturligt nok ønskede han og hans hustru at
træffe det hjælpsomme ægtepar, der dengang reddede hans liv. Han kunne ikke rigtigt huske, hvor
han var styrtet ned, men det lykkedes alligevel at finde ægteparret i Torrild. Flyet styrtede ned her
ved deres gård Vandstedbæk. (Præsthøjvej 180, 8300 Odder)

Sydney W. Cooper blev krigsfange i Tyskland resten af krigen. Se Tyske krigsfangelejre.
Han har efter 1964 flere gange besøgt Torrild, og i 1990 forærede han kirken den gæstebog, som
Kristian Peder Moesgaard, (1939-2017) formand for menighedsrådet i Torrild gennem 35 år, her viser frem.
Der er en del australske navne blandt de besøgende.
Sydney W. Cooper har også givet kirken en oblatæske af sølv med denne inskription
på dansk: "I taknemmelig erindring om d. 10.4.1944. Syd Cooper"

From a newspaper, 1964, from KPM, Torrild: On the night between the 9th and 10th April 1944 an English Lancaster-bomber crashed into farmer
Frederik Villefrance´s field at Torrild west of Odder. Six men perished. A seventh, the Australian Syd Cooper, survived the crash. Frederik Villefrance and his
wife gave him food, provided a doctor and hid him, before the Germans came. Now - 20 years later - Syd Cooper is on holiday in Denmark. Of course he
and his wife would like to meet the helpful married couple, who saved his life then. He could not remember very well where he had crashed, but he
succeeded in finding the couple in Torrild. The plane crashed here at their farm Vandstedbæk. (Præsthøjvej 180, 8300 Odder)
Sydney W. Cooper became a POW in Germany for the rest of the war. See Stalag Luft 6, Heydekrug. German POW-Camps.

After 1964 he has visited Torrild several times, and in 1990 he presented to the church the Visitors´ Book, which is shown here by Kristian Peder Moesgaard,1939-2017,
chairman of the parochial church council in Torrild for 35 years. There are a number of Australian names among the visitors. Sydney W. Cooper has also given
a silverbox for wafers for the communion table to the church with an inscription in Danish saying "In grateful remembrance of 10.4.1944. Syd Cooper"
See his name among 47 names in London and Horsens. See also Google Map HorsensEH47.
See Google Map 460 Squadron RAAF-DK * See Lancaster * Lancaster photos * p286MACR.
No. 460 Squadron RAAF - Wikipedia * 460 Squadron - Bomber Command WW2 * Minelaying areas.
Lancaster III JB600 AR-O took off from RAF Binbrook at 21.26 hrs on 09 APR 1944.
(Source: Aircrew Remembered has this+Archive_Report) 7 airmen.