Jack Grain Updated: 19 JUN 2018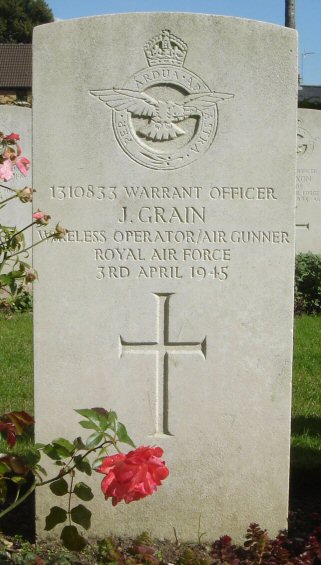 Photo: 03 SEP 2010
Airman: e666005.htm Surname: Grain Init: J Rank: Wt/O Service: RAF Sqdn: 196
P_link: p437r.htm Plane: STI LK193 Operation: Drop in DK Crash_site: Sheringham/Cromer
Crash_d: d030445 Buried_d: b111111 C_link: e666c.htm At_Next: Cambridge,UK

Denne flyver er en af 69 omkomne flyvere mindet på Flyverstenen i Rebild, se Rebild 2012.
Han mindes også i London. Se 69 flyvere - St. Clement Danes.

Finn Buch har indhentet disse oplysninger i kort form, her som almindelig tekst:
Natten mellem 2. og 3. april 1945 var Stirling MK IV LK193 på operation SOE Tablejam 260 med containere, der skulle nedkastes i Danmark. Det forlod flybasen Shepherds Grove kl. 2230, men styrtede ud for kysten ved Sheringham kl. 2250! (Ulykkesbeskrivelsen: "Flyet vides at have ramt havet og eksploderet ud for den britiske kyst, nær Cromer. Det vides ikke om styrtet skyldtes en teknisk fejl." Cromer er 6,5 km øst for Sheringham.) Hele besætningen døde med undtagelse af flyversergent Bennett, som senere døde af sine kvæstelser den 2. juni 1945. CWGC bruger 3. april som dødsdato for andre besætningsmedlemmer, så den dato bruges også her som dato for nedstyrtningen.

Warrant Officer (Wireless Operator / Air Gunner) Jack Grain hviler på Cambridge City Cemetery sammen med 4 af de andre besætningsmedlemmer i fællesgrav 15763-15765. (Kilde: CWGC)



This airman is one of 69 perished airmen commemorated on the Aviator Stone in Rebild, see
Rebild 2012. He is also commemorated in London. See 69 airmen - St. Clement Danes.

Finn Buch has obtained this information in a short version, here as plain text:
During the night between 2 April and 3 April 1945 Stirling MK IV LK193 was on Operation SOE Tablejam 260 with containers to be dropped in Denmark. It left Shepherds Grove Air Base at 2230 hrs, but crashed off the coast at Sheringham at 2250 hrs! (Description of Accident: "The aircraft is known to have struck the sea and exploded off the British Coast, near Cromer. Not known whether crash was due to a technical defect." Cromer is 4 miles east of Sheringham.) The whole crew died except F/Sgt Bennett, who later died from his injuries 2 June 1945. The CWGC uses the date of death 3 April for other crewmembers, so that date is also used here as date for the crash.

Warrant Officer (Wireless Operator / Air Gunner) Jack Grain rests in the Cambridge City Cemetery with 4 of the other crewmembers in Coll. grave 15763-15765.
(Source: CWGC)

See No. 196 Squadron RAF -Wikipedia *196 Sqn at Unit Histories. This Stirling took off from RAF Shepherds Grove. Google Map Rebild. 6 flyvere.